Jul 10, 2013
Malbec And More
(photo: Pulenta Estate in Alto Agrelo)
Just over three years after my first trip to Argentina, I found myself back in Cuyo, South America's largest wine producing region.
Cuyo is a broad region, which encompasses Mendoza, San Juan and the lesser known San Luis and La Rioja. It's smack in the center of Argentina's three main regions, the North, which includes Salta and Catamarca and Patagionia to the south, home to Neuquén and Rio Negro.
Keep in mind that 98-99% of vineyards in Argentina are planted alongside the Andes mountain range but there are some near sea level not far from Buenos Aires and in eastern Rio Negro.


The message has not changed in Argentina, altitude is king. What has changed is how Argentine producers have widely embraced it to their benefit and to search for specific sites that will be interpreted in the final wine. Producers are finally letting the consumer know about these specific sites by labeling the wines according to appellation or vineyard. It's something we've (wine writers) been saying for years, let people know how specific and how special this wine is by introducing us to exactly where the grapes were grown.

My fear three years ago was that a fickle consumer would soon grow bored of the generic, inexpensive and exceedingly approachable wines (specifically Malbec) and Argentines would suddenly find themselves in a glut of grapes and wines and new wineries, which would either have to find a new audience or shut down.

We've seen it happen before. Most recently Australia, who was led astray by popularity and trend, creating swaths of homogenous wines all tasting the same. When the consumer grew tired of one-size-fits-all, they moved on to Malbec (at least that's the case here in Canada). Australia had been (and in many cases never stopped) making regional wines, but they were overshadowed by inexpensive multi-regional blended wines. It's been an uphill battle for Australia to reclaim it's glory, which I find disturbing as so many regional and appellation specific wines are, in a word, magnificent.
I saw Argentina going down the same path. The outcome would not be good and we'd simply see a new trend, a new country and a new wine of the day.
Cest la vie.

Prices continue to be exceptional, coming out of Argentina. Especially when you think of their premium and ultra-premium wines. Quality like that in most other countries is double, triple and more. Those prices have begun to ascend, though. Be prepared as the inflation rates in Argentina have risen, exports are down due to rising costs and the price of simply making wine in Argentina has risen incredibly.

Unlike the past decade or so, international investors may be seeing Argentina as less attractive when less money can be made.

Fortunately, Argentina has benefited greatly from the international exposure they have so far received. With international investors the quality of wine in Argentina has improved dramatically. Technology has found its way into the wineries and to the vineyards. Not necessarily in a contrived way but in an effort to make better, cleaner wines. Most importantly, this knowledge and expertise has found its way into the vineyards where it's become more evident in how vineyards are planted and where. After all, any good producer will tell you, wine is made in the vineyard, not in the winery. To bottle a wine with a sense of place, a wine that tastes and smells like where it has come from (not like it could come from anywhere - who knows?) is the goal of every good vintner I've met.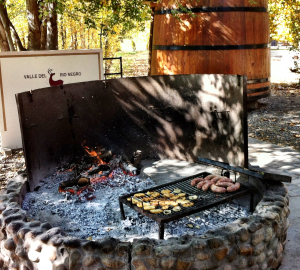 Upon revisit I saw some very positive changes. A desire to produce not more, but better, site specific and quality wines. In addition, Argentina has seen an incredible increase in wine tourism. Malbec may have put Argentina on the wine tourism map, but the benefits to all aspect of the wine industry are obvious.
Why? Because tourism brings consumer to you. It allows them to see and understand regions and appellations as they pertain to wine. It gets them excited to go home and share experiences and buy wines from places they've been.
Tourism also effects other aspects relating to wine...food. Food and wine are integral to one another. The food in Argentina and the range of restaurants blew me away.

It was the most obvious change I experienced.

The first time I visited Argentina, beef cooked on the asado (an open fire grill - see above right)) was served at nearly every meal.
Argentina is known for its beef, of course, but it was too much.
At dinner one night an Argentine winemaker who chose to dine on the same mushroom ravioli I was told me there was a new trend in Argentina, Argentine people were actually eating less beef, for health reasons (and possibly because the price was increasing). I filed the information away and when I returned three years later, I discovered he was right.
We were treated to only one asado on my recent trip and visited a single restaurant famous for its parrilla (grill), the famous Don Julio in Palermo, in Buenos Aires.


The time there were abundant and plentiful vegetables and more than simple (albeit delicious) pastas or savoury empanads (as right). There was a concerted effort to make food look beautiful, to add international flare but still focus on local produce and cheese (scroll down to see my food photos at the bottom of this page).
I can honestly say that the food I experienced in Argentina this time was 100% better, while maintaining its uniqueness by paying homage to its South American, Spanish and Italian cultures. I devoured some of the best dishes I've ever had from around the world. There was also a growing trend of winery restaurants, which are part of the evolution of any new (or emerging) winemaking region and country in the world.
Build it and they will come.

All that in just three years.

My tour
What is so special about Argentina?
Altitude yes, they have it in spades but it's less than noticeable depending on where you are.
What else is special?

Read an excerpt from what I wrote about Mendoza in 2010...

....my perceptions were more than a bit skewed. It was far less rustic than I imagined and much flatter as well. When you hear wine folk talk about Argentina it's all about altitude, altitude, altitude. But your perception is altered by the fact that Mendoza is a high plateau and when you fly in you have no idea how high you really are. And, although there are hillside vineyards, the vast majority of those I visited in Cuyo (the epicenter and the largest of Argentina's wine regions) were on flat plains or gentle slopes. But as you slowly ascend from one plain to the next when driving, you notice a subtle change in elevation - especially as you draw nearer to the mountains. Not that I am saying there are not sloped vineyards in Argentina - there are - but perhaps I had images of steeply angled German Mosel vineyards or the fantastic terraced vineyards of CÔte RÔtie?

Yet the vineyards here in Argentina sit so much higher, so much closer to the sun's warm, intense rays than those other places. And those great altitudes (of roughly 700 feet above sea level in Patagonia, to nearly 9900 feet in Salta) also provide the shift to cool nights building finesse, long fine tannins, structure and acidity in the grapes. So despite the impressiveness of the regions I mentioned previously, Argentina still has the worlds highest vineyards, in spades.

I have not even mentioned the arid, dry conditions which prevent mildew and an array of miniscule pests from setting up a buffet - this means little or no use of pesticides. Despite the lack of rain, (it rains less here than either Napa or South Australia) water, is not really a concern (the high Andes Mountain's snow melts each spring and water becomes plentiful) but it can still be an issue. Although there are many rivers and canals in Argentina to irrigate from, not all have that option.
Water runs deep beneath the terrain forcing many wineries to drill deeply, more deeply if they want to avoid certain mineral and metals. And, many vineyards still rely on the old method of flood irrigation, (flooding the vineyards through channels dug around and through the vineyards allowing water to pool) which can be wasteful and (despite it's benefits helping to prevent Phylloxera) many believe it causes other problems, like lazy roots or high yields. But drip irrigation is costly and many cannot afford it if dry farming is not a choice. And, when you consider cost and investment in vineyards - netting is a far more important one as vines face possible devastation from the constant threat of hail, so common here.

Read the entire 2010 article

First stop, San Juan

On April 15th, 2013, I flew into the city of San Juan, north of Mendoza.
The province of San Juan is home to approximately 21% of Argentina's planted vineyards. The Land of the Sun, as it is referred to, is an arid region with strong Spanish influences.

One of my visits was to Graffigna, whose impressive history has led the winery to build a museum at the San Juan site. It all began when Santiago Graffigna arrived in Argentina in 1870. He and his wife had 13 children and built quite a wine empire. An earthquake that devastated San Juan in 1944, killing 10,000 people, also placed the Graffigna winery in ruins. They never quite recovered and were finally purchased in 2005 by Pernod Ricard. The winery has been rebuilt with impressive results and the wines are now sold around the world. In 2010, when the wines were released in Canada I flew down to Miami to taste the wines and meet winery director Victor Marcantoni, who I later wrote about in Vines Magazine.
On this trip I met winemaker, Gerardo Danitz.
The wines of Graffigna have been relaunched with great success and are widely available, specifically the well-priced Centenario line, which features a fresh and fragrant Pinot Grigio a Malbec and Shiraz (read my previous reviews here)



Bodegas Callia a sister to the impressive Bodegas Salentein located in the Uco Valley (my visit to Salentein in 2010). A quick stop at the winery in the Tulum Valley, San Juan, albeit quick, did manage to underscore that Griffigna is not the only one making Pinot Grigio in the region.

Highlights were the 2012 Callia Magna Chardonnay, which although it was reminiscent of a Pinot Gris~Torrontes blend, was juicy and slightly buttery with pear and melon notes. The Alta Malbec, 2012 was raspberry and blackberry with vanilla and is a very consumer-friendly and approachable wine. The palate is peppery and very fresh with coffee and roasted herbs on the finish. The 2011 Callia Magna Malbec was a bit more graceful with very good length and acidity.

Other standouts:
Casa Montes (no relation to Montes of Chile), which is also located in the Tulum Valley, has four levels of wine.
In the entry level a gorgeous Ampakama Viognier 2012 was loaded with stone fruits and ginger and boasts a lush yet fresh palate. In the next level up, Intenso, I tasted the 2011 Malbec, a savoury, spicy and meaty red with plenty of pepper and dark mocha. The third range highlight was undoubtedly the rare Don Baltazar Cabernet Franc 2010. Intense, wild berry fruit and chocolate with floral and sweet spice undertones leads to a silky and concentrated palate.

Finally, the ultra-premium Alzamora Syrah 2009 lobbed off sweet fruit, roses and violets, white pepper with
an elegant chocolate and espresso palate and glorious persistence.


The young Bodegas Merced del Estero was a new name for me but the wines were delicious and approachable. The Mil Vientos (thousand winds) label supplies a delicious 2012 Torrontes with flowers, lime zest, honey and ripe tropical fruit. The 2011 Cabernet Sauvignon oozes raspberry and floral notes with chocolate, sweet spice and vanilla, blueberry and chocolate. Lastly the 2011 Malbec offered sweet red berries, blueberry and liqueur-like concentration in the mouth.

Read my 2010 article on Argentina in Vines Magazine
Read my 2010 article on Argentina in TASTE Magazine (pg 16)

Read about Mendoza here


Quick Facts
Percentage of Argentina's vineyards are planted in:
The North - Salta 1%, Catamarca 4,7%
Cuyo - Mendoza 66%, La Rioja 5%, San Juan 21%
Patagonia - Neuquén 0.3% and Rio Negro 1%.
Other - 0.7%

Argentina is the 5th
largest wine producer in the world with 240,000 hectares
of vineyards planted (Mendoza has 116,000 of those)

25% of the wine is exported.

In just over twenty years the export of wine has risen from
$5 million (1991) to $1 billion.

Argentina is home to 1300 wineries
A Mouthwatering Selection of Fine Argentine Cusine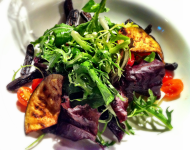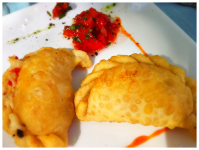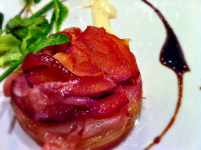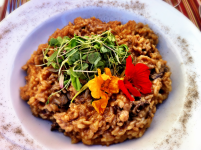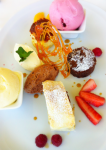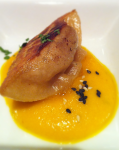 More Argentina!
Mendoza here

Patagonia! The vineyards at the end of the world. Here

~Daenna Van Mulligen