Jul 23, 2013
Mendoza
(photo: Atamisque, Uco Valley)

As mentioned on my introduction to Argentina Malbec & More here, Mendoza is a both a city and a province within the region of Cuyo.
Cuyo is the central winemaking region of Argentina that butts up against the Andes Mountain range and it translates to the land of deserts.
A suitable name as Cuyo is not only where the vast majority of wine is made in Argentina, but it's also extremely dry, making it perfect for
growing grapes without worry of rot or mold.

The average (mean) temperature is 15 degrees Celsius and the region rests between 700 and 1700 meters above sea level.

Mendoza Province
Although the peaks of the Andes draw your attention, what you won't notice is a discernable variation in vineyard slope or even realize how far above sea level you are while resting on this plateau. It's seems that only when you drive south and west toward the Uco Valley you begin to notice subtle increase in elevation.

Within Mendoza there are several notable regions; Maipú, Luján de Cuyo, Rio Mendoza south, San Rafael and Uco Valley and within those, smaller appellations. You may have heard of some of those important appellations before, or read them on wine labels; Vistalba, Agrelo, Perdriel, Lunlunta, Ugarteche etc. as well as Tupungato, La Arboleda and Vista Flores in the Uco Valley.
Many producers make wine from numerous sites to draw the unique character, soil type and altitude from each vineyard and have it translate into the finished wine.

The story remains, altitude and climate make the wines and specifically the Malbec from Mendoza exclusive. Read more about what makes Mendoza special here.

The Producers
There are always producers who make wines that are memorable. I met a lot of people again on this trip and have a book full of tasting notes. It's simply not possible to share every sip, so here are the ones that stand out - for one reason or another...



Bodega Norton
My visit to Bodega Norton was a visually spectacular one. It's a large winery that produces a variety of wines in many price ranges. Beyond the outstanding vistas viewed from of their tasting room is a small restaurant called La Vid, which is built to resemble a wine cave. I highly recommend you dine there if given the opportunity.

Bodega Norton was founded in 1895 during the building of the railroad between Mendoza and neighboring Chile.
Edmund James Norton planted the Perdriel estate (south of the Rio Mendoza) with vines from France. He began construction of the winery in 1919 (still in use) and continued to expand his estate. In 1989 it was purchased by Austrian businessman, Gernot Langes-Swarovski, who had a great appreciation for this traditional estate surrounded by its own vineyard. His son grew the company and was a leader in developing export markets. The estate grew to more than 1200 hectares and was shipping to 60 countries around the world by 2000 under Gernot Langes-Swarovski's son, Michael Halstrick. Since then they have embraced wine tourism, upgraded the impressive Norton facade and have won numerous prestigious international accolades.



Norton 'Finca Perdriel' XB Extra Brut, NV - A 50/50 blend of Chardonnay and Pinot Noir made in the traditional method, this sparkler is classy. The nose exhibits toasted brioche, yeast and citrus while the palate is fresh with a creamy edge, lively acidity and faint citrus, ginger and marzipan flavours.


Norton Privada, 2010 is a recognizable bottle to Canadians. It contains 30% Cabernet Sauvignon, 30% Merlot and 40% Malbec. from Agrelo, Perdriel and Lunlunta. The nose is violets, black cherry, cassis, exotic spice and chocolate. It has an appealingly fresh palate is wonderfully balanced and smooth with supple fruit, spice and saline hints in the mouth. Always a solid premium wine without the premium price.
Approx $25 coming soon to Canada



Norton Privada Malbec, 2010 - Made from Malbec from estate vineyards in Perdriel, Agrelo
and Lunlunta the first vintage of this wine was made in 2006. It has great concentration of notes - crushed violets, blackberry, licorice and mocha. The texture is silky and seductively weighted on
the tongue. Plush ripe purple and black fruit and spiced cocoa on the palate are not over the top.
Nice restraint, chic yet approachable.



Pulenta Estate - Luján de Cuyo

The modern Pulenta Estate winery is located in the Alto (high) Agrelo, in Luján de Cuyo and was built in 2002 by brothers Hugo and Eduardo Pulenta.
The Pulenta family first arrived in Mendoza, from Italy in 1902 and built their first small winery and made wine from their five hectares of land in San Juan. The family remained in the wine
business growing to many wineries and vineyards (including starting Trapiche) across San Juan and Mendoza. Another brother Carlos Pulenta is also well-known in the wine industry, he owns Vistalba in nearby Vistalba (I have reviewed many of his wines here) and several other properties around the world.

They make a lovely white table wine in their estate label, Pulenta Estate Sauvignon Blanc, 2012 is made from Agrelo estate fruit and is lively and refreshing. The entry level La Flor Red Blend, 2011 (about $12 USD) combines equal parts Malbec and Cabernet Sauvignon with 10% Merlot from Agrelo and Uco Valley. It's a solid value red with sweet red and black fruits dried herbs and peppery spices. It is medium-bodied and and fresh with pepper and dark cocoa on the finish. You won;t go wrong with the zesty cranberry and sour cherry scented 2012 La Flor Rosé either; it has a racy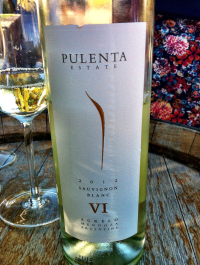 orange and strawberry palate too.

The second tier Uco Valley and Agrelo Malbec, Pulenta Estate I, 2010 is wonderfully floral and provides hi-toned berry notes, chocolate and coffee with licorice notes. Very nice freshness and length.
The ultra-premium Gran Pulenta Cabernet Franc XI, 2010 ($40-$45 USD) leads with appealing hi-toned red currents and floral notes and is layered with white pepper, mixed spice bell peppers, leather and tobacco. It is minty and fresh with plenty of spicy fruit, coffee and cocoa with a continuing minty, bell pepper finish. The 2009 Gran Corte VIII ($50+ USD) blends Malbec, Merlot, Cabernet Sauvignon, Tannat and Petit Verdot to make this intriguing wine laden with sarsaparilla, vanilla, crushed purple flowers, blackberries and blueberries. It has amazing concentration; a mouth-filling wine with spice, chocolate and a touch of saline on the finish.

I asked to taste the 2010, Gran Pulenta Pinot Noir XV, which made is made from estate Uco Valley vines more than 20 years old. The Pulenta wines are imported into the USA by winemaker and consultant Paul Hobbs who also
consults on this wine. The first vintage of this wine shows a unique Tupungato character. The nose is earthy, spicy and fragrant - expected floral notes layer with red fruit, some darker briary berries, star anise.
The nose is sweet, the palate is still young and very tight, the acidity is assertive and it's quite astringent.



Luigi Bosca - Luján de Cuyo

Luigi Bosca has been family owned since 1901. It's a historical Luján de Cuyo estate that began in partnership between Leonci Arizu, an immigrant from Navarra, Spain and Luigi Bosca from Piedmont. The fourth and fifth generation of the Arizu family are currently running the company, which includes vineyards in Los Nobles, La Linda, La España, Don Leoncio, El Paraíso, La Puntilla and Los Miradores, covering a total of more than 700 hectares. They export 60% of their bottles to 50 countries around the world and offer a wide selection of labels with a dizzying amount of wines.


From the entry level Finca La Linda range I tasted the one wine the family grows outside of Mendoza, the 2012 La Linda Torrontes from Cafayate in The North. It's a pristine floral and fragrant style with tangerine, tropical fruits, stone fruit and orange blossoms. It is crisp and on the leaner side - a good sipper at $13ish. The Finca La Linda Bonarda, 2011 (also about $13) offers chocolate, crushed violets, cherry and raspberry. It's straightforward in the mouth with a juicy, spicy character. The Luigi Bosca, Luján de Cuyo DOC Malbec, 2010 is made from a single vineyard an is a seductive style laden with a potpourri of crushed violets and cedar chips with sweet summer berries. The palate is supple with generous fruit, earth and spice.
The 2010 Luigi Bosca De Sangre (sangre meaning blood - specifically blood of the family) is a Cabernet dominant blend with 15% each Syrah and Merlot that was launched for the 110th anniversary of the winery. Like the DOC Malbec, the
nose is a fragrant potpourri of cedar chips and dried flowers alongside plush fruit, leather and smoke. Supple fruit and a plush texture elevates the enjoyment of this wine, it has very nice balance and length ($25USD) . The Luigi Bosca Gala 2, 2010 ($34 USD) is a blend of Cabernet Sauvignon, Cabernet Franc and Merlot, which offers spicy red berries, floral notes and mocha on the nose and palate. It is also very fresh with impressive persistence. The Luigi Bosca Gala 4, 2010 ($35 USD) is a blend of Malbec and Cabernet Franc with lively high-toned red berries, spice and herbs with savoury, meaty undertones. The palate texture and weight is lovely - plush and smooth laden with juicy red fruit and again great length. Finally, the Luigi Bosca ultra-premium ($70 USD) Finca Los Nobles Malbec~Verdot, 2009 comes from a 80+ year old vineyard is is dominated by Malbec. It is intensely coloured and leaps out of the glass with dried cherries, plum, rich spice, chocolate, coffee and floral notes. It has fantastic concentration, a supple weight and a long smoky, meaty finish. They recommend you can age this wine for up to 20 years.


Other Noteworthy Wines & Wineries

Luca Winery
Luca is an artisan winery owned by Laura Catena (of the highly-respected Bodega Catena Zapata) and is named after her eldest son. The wines are without a doubt some of the best I tasted in Argentina. The Luca 'Laborde Double Select' Syrah, 2011 comes from 50 year old vines (hand selected from some of the best cuttings from France) in La Consulta in the Uco Valley at 3500 feet above sea level. It is a seductive and engaging wine with chocolate, peppery spices, blackberries and black raspberries and roasted meats. It has a very Northern Rhone character and elegant palate of generous sweet fruit, cocoa, coffee and pepper with a lengthy finish. During a subsequent lunch at La Vid (Bodega Norton), it was the red that was reached for the most.
Luca Malbec, 2011 - Also from the higher Uco Valley made from vines an average of nearly 50 years old. The notes here are wild berries, fresh but rich red and black in colour. In addition, dark chocolate, roasted espresso and spice. It is a powerful wine, the palate is firm and it's still young and tight but also focused and certainly masculine. Great length and balance, I'd love to taste this again in a year or two.
ReNacer
​Another recognizable name in Western Canada, the ReNacer Punto Final (right) has been in my TOP 100 under $20 wines each year for several years now. The ReNacer is located in Perdriel (Luján de Cuyo) and was built in 2004 during the great international growth and investment into Argentina.
The ReNacer Cabernet Sauvignon, 2011 has the addition of 10% Cabernet Franc and offers black currents, peppery spice, tobacco and floral undertones and hints of both mint and green olives. The palate is as fresh as the nose it is approachable but is not lacking substance. Flavours of cassis and chocolate dominate the palate.
The Punto Final Malbec Reserva, 2010 is made from vineyards in Luján de Cuyo and the higher Uco Valley it also has a spritz of Cabernet Franc added. Expect spicy black briary fruit, pepper and other savoury undertones. It exhibits lovely fresh acidity, plenty of mixed spice and sweet fruit. The tannins are long and ripe. For something different, the Enamore 2010 utilizes some dried grapes to give weight, depth and sweetness. It is made in association with Allegrini of Italy and contains Malbec, Bonarda and some Cabernet. The notes are dried cherries, cassis, chocolate and baking spices. It gives the impression of additional sweetness due to the intensity and glycerol-type plush texture, but it only has 8 grams per liter of residual sugar. It is both lush and lively with sweet fruit and great persistence. You will "fall in love' with this wine, especially paired with dark chocolate.
Belasco de Baquedano
Despite a difficult to pronounce name, this Malbec only producer makes some fine wines. Sadly, I was unable to visit the stunning Agrelo situated Belasco de Baquedano winery itself but I did taste three wines. The winery was built in 2004-2005 in the midst of a 101 year-old vineyard.
The entry level Llama 2012 Old Vine Malbec offers cedar and floral tones amidst sweet berry fruit, sweet spices and mocha. It has a seductive, silky weight and plush chocolate, spicy coffee cake flavours. Excellent value at $15 in British Columbia. The mid-range AR Guentota Malbec, 2009 is a different beast, which leads with meaty, savoury spice and dried herbs layered with juicy fruit. The palate follows the same savoury, peppery route and the texture is plush. The premium Swinto, 2010 is made from old vine Malbec and is very masculine in style - firm and powerful with a supple texture and aromas and flavours of dark chocolate, black fruits and roasted coffee.

Mendel Wines
Located in Luján de Cuyo, Mendel Wines sources their top wines from vines 80+ years old. This family producer are of Polish descent and own a boutique hotel in Patagonia, while living in Buenos Aires. Wanting to get into the wine business they came across an old winery and abandoned old vine vineyard in 1999. The entry level Lunta 2011 Malbec (about $15 USD) comes from 85 year-old vines and boasts briary berries and spiced mocha on the nose. It's very approachable, smooth and easy to drink but is not an over-the-top fruity style. The decidedly fresh 2011 Mendel Malbec leads with black cherries and blackberries, sweet vanilla and fragrant purple flowers. It's also sweet, plush, supple and chocolaty in the mouth with a nice peppery edge. The premium Mendel Unis, 2010 is a blend dominated by Malbec with 30% Cabernet Sauvignon and 5% Petit Verdot and is made to age. Expect impressive concentration on the nose with spicy black fruit and dark mocha. It's a powerful wine with firm tannins and rich dark and spicy flavours and excellent persistence.
Trapiche
Needing little introduction, Trapiche is one of Argentina's well-known (and the country's most exported premium wines) brands, which is sold in more than 80 countries around the world. They produce wines from entry level to ultra-premium from their 1000 hectares of vineyards and 200 independent grape
growers. The winery is located in Maipú and they have began experimenting with biodynamic viticulture on their home vineyard.
Wanting to introduce their new label, and in keeping with current trends, I tasted a sweeter red blend and a white blend. The new label is called Extravaganza and I think they missed the mark on the design of this label, it looks too dark and serious for a "fun" wine. Saying that, the white is mostly Chardonnay with 40% Torrontes and is very fragrant - think lavender pastilles, lime leaf, honeysuckle, stone fruit and pineapple with spice. The palate is weighty and fresh with good concentration. The Extravaganza 2012 Red ($17-$20 CND) is muddled berries, chocolate, sweet spice and vanilla. The texture is smooth and the flavours echo the nose. Much more impressive, the Trapiche Iscay, 2008 is a blend of Cabernet Franc and Malbec. It's a more complex wine with cherry and mixed, muddled dark berries, grilled red pepper and roasted spice with savoury undertones. It has a lovely palate weight, supple generous berry flavours and smooth chocolaty finish. More of my Trapiche reviews here


Andeluna Cellars - Uco Valley

Heading south and west away from Mendoza city my first stop was at Andeluna in Tupungato where another stunning new winery stood before me. Andeluna (Andes+moon) was founded in 2003 by Ward Lay (of the founding Frito-Lay, USA) whose family has interests in hotels, real estate, oil and financial enterprises.
The estate is home to 80 hectares (at 1300 meters/4300 feet) and has a tank capacity of 1.6 million liters of wine. It's an impressive facility with a grand visitor's room attached to a tasting bar and open kitchen restaurant, which is open daily for lunch. The winery has received international acclaim from the
world's top magazines and boasts Michel Rolland as it's consulting winemaker to Manuel Gonzalez. The land was purchased from Rutini Wines and was originally planted in 1997.

Wines
The entry level Andeluna 1300 label offers a very pretty, fruity and floral driven 2012 Chardonnay with a pristine and juicy tropical palate and a spicy, peppery and berry bursting 2012 Malbec with a roasted mocha and spice palate as well as a 2012 Cabernet Sauvignon oozing gobs of blueberry and cassis supported with minty flavours and sweet tannins. All are about $18 ($14 USD).

The Andeluna Altitud Chardonnay 2012 stole the show with impressive aromas of Madagascar vanilla, clove, cinnamon, butterscotch, pineapple, guava and melon and buttery weight blasted with racy acidity. The Andeluna Altitud Malbec 2011 offers impressive wild berry fruit, floral and vanilla but the oak dominated the palate. At about $50 USD the decadent Pasionado Cabernet Franc 2007 was a nice reprieve from the ongoing assortment of Malbec I'd been tasting with sweet currents, roasted bell peppers, saskatoon berries and cocoa. - the palate supple the fruit generous and chocolaty. Finally the Pasionado Cuatro Cepas 2007, a blend of Cabernet Franc and Sauvignon, merlot and Malbec led the charge with figs and dried cherries, cassis jam, prune, sweet spice and mocha. It is a potent and intense wine with tannins that are softening but still have some vigor. Great length and elegance in this wine which is just being released.
Bodega Atamisque - Uco Valley
At the entrance to the Uco Valley in San José of Tupungato, not far from Andeluna sits the Atamisque estate.
First founded by Jesuits in the early 1600s it became known as Estancia San José, a farming community then village finally
encompassing 19,000 hectares known as Estancia Atamisque. Divided up in the 1800s it changed hands many time times until French Belgium businessman, John Du Monceau purchased a piece of it in 2006.
Although Atamisque was Du Monceau's first foray into wine, his wife Chantal, who is Swiss, comes from a wine family. He fell in love with the region and the lifestyle and lives right on the property, near the winery.
The Rincón Atamisque (restaurant) where I had an absolutely delightful Argentine lunch on the lawn, is just one of the pieces of the Atimisque 'enotourism' package. The 100 hectare estate is also home to lodges, a golf course and a trout farm - undoubtedly found on the menu at Rincón Atamisque.


Wines

The Serbal label series are unoaked fresh young wines. The 2012 Serbal Viognier grabbed my attention - I loved the fragrant and pristine stone fruit, sweet spice orange zest and vague herbal notes. It was gingery and weighty with lovely acidity and chic finish.
The estate Catalpa range offered a 2011 Pinot Noir that was one of the best I tasted in Argentina. It had good pinosity and aromas of maraschino cherry, leather, sage, forest floor and cocoa while the palate was both supple and tart with a silky texture and lovely balance.
The estate Catalpa 2010 leapt out of the glass with violets red and purple fruit with grapey tones. It boasts incredible intensity
and bittersweet chocolate and espresso flavours with firm but ripe tannin. Finally the premium Atamisque Malbec 2009 flashed its radiant purple fruit, raspberry and floral notes atop savoury spice and roasted coffee beans. The supple and concentrated palate could do with a bit more time but the structure and balance are in check.

More Noteworthy Wines & Wineries

Vista Flores Estate
From the Vista Flores Estate I tasted the Altamira wines (the Altamira name came into play in 2007). The wines are made from grapes harvested in their La Consulta and Vista Flores vineyards in the Uco Valley from vines up to 75 years old.
The premium Altamira de los Andes Reserve Malbec 2009 was rich in colour with generous purple fruit, chocolate and violets. The palate offered sweet and supple fruit - almost jammy - with spiced chocolate a silky texture and impressive mocha finish (about $30 CDN). The Altamira 2008 Grand Reserve impressed me with its vanilla, plush dark fruit, leather, tobacco and minty notes. It's a potent wine with firm tannins that's made from Merlot, Malbec and Cabernet.
O.Fournier
O.Fournier was established in 2000 with a mandate to produce high quality wines in Argentina, Chile, Portugal, Spain. I tasted the entry level Urban Uco Malbec~Tempranillo 2012, which offers lively blueberry, raspberry ad vanilla. It's a good value wine, great for buy-by-the case and a crowd-pleaser for a party. The B Crux 2009 from the Uco Valley is made from Tempranillo, Malbec and Touriga Nacional (you'll notice a trend with O.Fournier and their use of Spanish and Portuguese varietals as they feel they are suited to the Uco Valley's climate). It's a unique change from other Argentine wines with its cherry and smoked meaty notes with leather, garrigue, chocolate and coffee. The palate is succulent and silky with savoury flavours and long, ripe but dry tannins. The iconic Alfa Crux 2006 also from the Uco Valley is mostly Tempranillo with 25%Malbec. Dried cherry, leather and prune tease the nose alongside strawberry and savoury spice. The palate leads with sweet fruit, leather and cherry with a seductive texture and impressive persistence - they suggest this wine is ageworthy up to 20 years.
Domaine Bousquet
Known for making thier Tupungato wines from organically grown grapes, Domaine Bousquet is a well-known producer in Canada and around the world.
The Bousquet family originates from the South of France and they have a long history of winemaking.
Jean Bousquet first arrived in Mendoza in 1990 (far before many other European investors) and knew he'd found a perfect place to make wine. He then moved to the valley and bought a parcel of land in 1998 and is now one of the leading exporters of organic wines in South America.
The 2012 Malbec offers roasted bell peppers and savoury spice, smoked meat, tobacco and black fruit. It has lovely structure and balance and a savoury, spice and smoked finish. The 2012 Cabernet Sauvignon is peppery with cassis and leather, bell pepper and graphite. The palate is supple and elegant with a firm, grippy tannins - this wine channels the Old World in its style. The Grande Reserve Malbec 2010 has a splash each of Cabernet, Syrah and Merlot.
Soon to be released it leads with sweet cherries, tea leaf, black plums, currents and vanilla. It is supple and offers generous chocolate and cherry flavours with tobacco and cedarbox flavours trailing on the finish.
CanTinian

British Columbian couple Dana Rothkop (right) and Diane Critchton fell in love with Argentina and lived in Buenos Aires before purchasing a vineyard in 2007. The established, old vine vineyard in Mendoza is organic and the produces impressively concentrated wines. The name CanTinian combines their two homelands, Canada and Argentina. I have reviewed their wines favorably in the past (see them here) but was pleased when Dana noted that they are going to be lightning up on the oak use and letting the fantastic fruit shine through. The new labels are fun and add an element of whimsy to the wines, so focusing on fruit seems to be a dynamic combination.


The CanTinian Malbec 2011 ($19) is bold and chocolaty with rich coffee and black fruit. It's a supple and potent wine with plenty of spiced oak, roasted coffee and bittersweet chocolate. The finish is chewy and quite grippy. The 2011 Cabernet Sauvignon offers spicy dried fruit and sweet cassis with spiced chocolate. The palate is concentrated, it has good acidity with a grippy oak tannin finish. My favourite of the lineup the 2011 Cabernet Sauvignon~Malbec (68%/32%) presents sweet plush fruit, baking spice and mocha. The palate is supple. The CanTinian 2009 Malbec~Cabernet Sauvignon Reserve (65/35%) comes from 90 year old vines. Black raspberry and mocha with cola spices lead to a rich, dark palate boasting supple fruit, chewy tannins and a chocolaty finish while the 2010 offers vanilla and violets, sweet spices and black fruits with a plush yet juicy palate and bittersweet chocolate and roasted espresso finish.

Salentein

I visited Salentein in late 2009 (read about it here) and it is a stunning winery in Uco Valley. Located about 1200 m above sea level the property was once owned by an Order of Jesuits who had vineyards here more than 200 years ago. Now owned by a Dutch entrepreneur, undoubtedly, Holland sees much of Salentein's production. I visited their sister winery Callia in San Juan earlier in this visit (read here).
The Reserve 2012 Chardonnay should be applauded for its elegance - lemony and fresh with honeycomb, spiced brown butter, wonderful freshness and excellent length. The 2011 Killka Malbec has floral undertones but also plenty of green beans and green olives atop tobacco, bittersweet chocolate and iodine with a bitter cocoa and clove finish. Finally the 2011 Gran Corte 'Numina' Spirit Vineyard blends Malbec with 21% Cabernet Sauvignon and small dashes of Petit Verdot, Cabernet France and Merlot. It offers pleasing purple fruits, vanilla, wild flowers and sweet mocha. The palate is supple and very silky with generous fruit, impressive concentration and firm but ripe tannin.

Alpamanta - Luján de Cuyo

Down a long dirt road in Luján de Cuyo, I discovered the quaint biodynamic vineyard and winery of Alpamanta with a strong female workforce (including Mendoza born biodynamic agronomist, Pamela Federici at right). Some female woofers (workers living on site who work for accommodation and food) had traveled half way around the world in order to work on this estate farm.
The estate is owned by three friends, Austrian Andréj Razumovsky, his Swiss cousin André Hoffmann and Frenchman, Jérémie Delecourt who came together with a conviction to make biodynamic wines in what they consider the best place to do so, Mendoza, Argentina. Winemaking runs in their blood and is part of their family's history. The 35 hectare estate was started nearly a decade ago and has 30 hectares currently planted with an assortment of Chardonnay, Sauvignon Blanc, Malbec, Cabernet Franc, Cabernet Sauvignon, Merlot and Petit Verdot. With some initial input from Alvaro Espinoza (well-known Chilean biodynamic specialist) they produce three tiers of wine, a fresh oak-free entry level, an Estate and a Grand Reserve Malbec.
The estate is also home to chickens, sheep and a garden to provide biodynamic preparations, such as horsetail, chamomile and nettle.



Alpamanta Natal Sauvignon Blanc 2012 offers all the juicy citrus, fresh herbs and grass you want in a savvy with pleasing minerality a fine texture and tangy finish.
The 2012 Alpamanta Natal Chardonnay leads with stone fruit, lemony citrus and minerality.
The palate
is crisp and clean with lively acidity. On the red side, the
2010 Alpamanata Estate Malbec
presents smoky blackberry, spicy cocoa, cigar and floral notes. Wonderful balance here with appealing freshness and a spiced cocoa palate. The
Estate 2008 Cabernet Sauvignon
is a lovely amalgamation of cassis and sweet spice dark chocolate and tobacco with a youthful palate, while the
2010
follows suit with vanilla and cassis, a medium-weight and attractive ripe fruit in the mouth. Finally, the
Reserve 2008 Malbec
is plush and supple with chocolate and blueberries, some dried fruits, fine spice and tobacco. The 2008 was only recently released and still has some grip on the finish.
Clos de Chacras

Located in the quaint village of Chacras de Coria, this boutique bodega makes wines from the appellations of Lunlunta in Maipu for their Gran Estirpe line and La Consulta and Tupungato areas for the rest of their wines.
Clos de Chacras has an impressive history which began with the arrival of an inhabitant of the Cantón Suizo de Tecino (Italian speaking region of Switzerland), named Bautista Gerónimo Gargantinito who came Argentina in 1893. He making wine under various labels (at one point considered a top producer world-wide) and eventually passed his heritage onto his son, Bautista Gargantini who also started two other wineries, Vistaflores and Chacras de Coria. The latter was sold but later reacquired by his granddaughter, Sylvia Gargantinito (photo right: on the left side) and her husband in 1987, who renamed it Clos de Chacras.
The 1921 winery was restored beginning in 2003, it is considered a historical landmark and is also home to a lovely restaurant where I had lunch on the patio.

Clos de Chacras 2012 Chardonnay ($16 USD) offers pear and melon with buttery caramel. Lovely citrus dominates the palate and is rounded out with spice and a pleasing creamy texture. The 2010 Malbec leads with black plum, purple berries, coffee and chocolate. The palate echoes the nose with mocha and spice. The more premium 2008 Cabernet Sauvingon (USD $25) leads with smoked cedar, spice, dark chocolate roasted pepper and dried herbs. It's an earthy wine with black fruits, lovely freshness and sweet tannins lingering on a persistent palate. Finally the premium Gran Estirpe Malbec 2010 is well integrated notes of dusty plums, black and purple berries and roasted coffee. It is concentrated and powerful with form tannins and a dark chocolaty finish.
Also tasted at Clos de Chacras

Altos Las Hormigas Malbec Classico (read 2012 review), 2010 Malbec, Uco Valley leads with juicy red fruit, cherry vanilla cola and sweet spice notes. It has chocolaty tannins and good length and structure with a pleasing minerality. The Altos Las Hormigas Reserve Malbec 2011 comes from specific Uco Valley blocks and offers rich purple and black berry fruits a lovely texture with cocoa and plenty of pepper on the palate. The tannins are fine but firm and long - time will benefit this wine.
Tomero Reserve Syrah, 2009 from the Uco Valley has lovely fresh berry, chocolate and peppery spice aromas. It's mainly a feminine style with a silky texture but the finish is powerful and tannins youthful. Vistalba Corta A 2010 like all of the Vistalba wines are consistently plush and powerful, this is a blend of Malbec with 30% Bonarda and a splash of
Cabernet Franc. It offers liberal fruit, chocolate and spice with excellent structure, freshness and length. The Vistalba Corte C, 2011 is gorgeous and presents sweet decadent fruit (blackberry and raspberry) sweet spice and a long supple palate.
More Vistalba and Tomero reviews here
Dominio Del Plata - Ben Marco Malbec, 2011 leads with sun-ripened blackberry and raspberry, vanilla and violets. The Susana Balbo 2011 Signature Malbec is deep and dark and earthy - black fruits, peppery spices and cassis lead to a powerful palate with pepper and grippy but sweet ripe tannins and cocoa on the finish. The 2012 Ben Marco Expressivo is a blend of Malbec, Cabernet, Syrah, Petit Verdot and Tannat. It's an intense wine with black fruits, earth, brown spices and dark chocolate blended with espresso.
More on my visit to Domino Del Plata previously, here

Argento Bonarda 2012 - the Argento wines offer impressive value in the under $15 (CND) range. The Bonarda is spicy red fruit and grilled red peppers with sweet spice and is very approachable. The Malbec 2012 is savoury and spicy with supple summer berry fruit and chocolate. The Esquinas de Argento 2012 Malbec offers sweet juicy raspberry and black raspberry, plum and vanilla with baking spices. It's approachable with ripe supple tannins. (New $18 CND)


The Catena Zapata wines (see all of my recent reviews here) are well known and respected internationally. They come from a family who not only specializes in Malbec but a family who has been making wine for more than 100 years.
Catena Chardonnay 2011 is a blend of two vineyards at 1200m and 1500m above sea level. It offers ripe tropical fruit and plenty of toasted spice, roasted hazelnuts and creamy texture with plenty of lemony citrus. Lovely balance and freshness.
The Catena Alta 2010 Cabernet Sauvignon comes from historic vines between 940m-1215, above sea level. It leads with graphite and cassis spiked with mint, chocolate, tobacco and vanilla. A beautiful texture carries cassis and mint - very chic.
The Nicolas Catena Zapata, 2009 is their icon wine - it's a blend of Malbec and Cabernet (a great partnership in most cases I came across in Argentina) with inky dark fruit and briary berries with rich mocha.It dances across your palate (nearly levitates, like the reds I tasted from from Salta). It's a glorious wine with sweet, elongated tannins.


Familia Zuccardi

Family member and winemaker Sebastian Zuccardi (right) played host during my second visit to this large but tuned-in Zuccardi winery and estate. It was started in 1963 by Sebastian's grandfather, Italian immigrant Alberto Zuccardi who was an engineer who developed an innovative irrigation system in Mendoza.

Alberto planted a vineyard in Maipu with the intent to simply show his neighbors how well his system would work and ended up falling in love with the wine industry. Construction on the family winery began in 1968. Now Sebastian continues the tradition but spends his his time in research of suitable varieties for the region, new winemaking and vinification techniques, concrete vats and how their shape effects the wine as well as soil types and their suitability to various varieties. They have built a second site winery in Tupungato which has just recently been completed and is home to only concrete vats, which Sebastian has fallen in love with using. He feels they breathe the best and give the wine tannins a mineral-type quality.

Zuccardi 2011 Torrontes 'Serie A' ($16) is a wonderfully floral and heady wine with lime leaf, orange blossoms and tropical fruits with a zesty green apple and lime finish, mouthwatering finish.
Zuccardi uses only natural yeasts in his Bonarda, his Bonarda vines are old. He
has a great respect and appreciation for Argentina's second grape variety, which was long thought to be only a blender or volume varietal. His Bonarda 'Emma', 2011 ($35) comes from a vineyard planted in 1979 and it offers raspberry and wild red summer berries alongside more savoury grilled red bell peppers. The palate is round, silky and supple with generous sweet berry fruits and cocoa. Less than 30% new oak is used to prevent overpowering the fresh fruit.
When it comes to Argentina's most important grape, Malbec, Zuccardi feels it is best when grown at 1000 meters above sea level. He sources his Malbec from between 100-1500m in La Consulta (990m) where the soil is clay and small pebbles, from Alta Mira (1100m) where the site provided tannins and texture to the final wine and the higher yet, Vista Flores. Zuccardi Q Malbec, 2011 ($20) comes from Vista Flores and La Consulta and offers delicate floral notes with raspberry and chocolate and wild black currents. Silky supple and spicy with chocolate flavours on
a generous palate.
Zuccardi 'Zeta' 2009 ($45) is a blend of Malbec, Cabernet Sauvignon and a splash of Tempranillo gives sweet floral notes with chocolate with a core of earthy dark aromas. It has a silky texture with fine, powdery but firm tannins and lovely fresh acidity. The Zuccardi 'Aluvional El Perel' 2009 from Tupungato comes from vines planted 100 years ago and will be launched to the public in October 2013. This Malbec is violets and vanilla, ripe black raspberry with mineral undertones. The palate is concentrated and spicy with long, powerful tannins and a smooth, glycerol texture. ($85)

MORE ARGENTINA

An introduction to Argentina, Mouthwatering Argentine Cuisine, San Juan and more... read

A fine selection of locally available Argentina wines and reviews... here

Patagonia - Vineyards at the end of the world! Here

~Daenna Van Mulligen