Sep 22, 2015


Many of us have given up on Bordeaux.
We've not forgotten it, but there's likely less of it rolling into our personal cellars and unless the restaurant is swank, we don't see much on an average wine list.
We are always fully aware of Bordeaux from both historical and a prestige point of view, we just rarely drink it.
It's just not that affordable compared to virtually any other region in the world.

Apparently that hasn't put a dent into the sales of Bordeaux in BC Liquor Stores.
According the BCLDB's European wine buyer, Barb Philip, Bordeaux is in crazy high demand in BC.

"It becomes clearer every day, I did not buy enough."
Philip is okay with that. Wisely, she'd rather sell it all than not enough.



During a a small preview tasting with Philip last week, she revealed that the prices of Bordeaux will not be going down.
The prices have been steadily increasing since the 2009 vintage.
There has been a succession of poor vintages, which have lowered quantities, but as Philip reminded us, demand and price don't matter to those who are buying high-end wines.

As a heads up, the 2013 vintage coming next year will be on par, price-wise, with this vintage release of 2012.
The 2014 vintage (to be released in 2017) will be similar but starting to increase slightly and 2015... well, look out.
With bated breath, it seems the hot and dry 2015 is looking to be hailed the vintage of the decade.


According to Philip, the 2012 vintage was quite similar to 2011 – a cool and rainy in spring caused late bud break. July was normal but it got very hot in August causing heat stress. The heavy rains in the first week of October created additional challenges - if the grapes weren't ripe and off the vines by then, they were a loss.
Overall, the crop was greatly reduced.
Merlot, which is harvested earlier fared best.
Philip, who prefers Cabernet, admits 2012 is a Merlot vintage.

Overall the whites fared well but sweet (noble rot affected) whites did not.
As it turns out it was not a good year for botrytis.

Philip poured a variety of these 2012 vintage wines from a range of prices from $28 to $1599.

The Wines

Château Haut Bergey Blanc Pessac-Léognan $60
Initial nose, citrus and mineral.
As it warms in the glass, it boasts fresh lively with fruit, slight pithy lemon and lemon curd or meringue with flinty notes, smoke and gooseberry. Shows Classic Sauvignon Blanc style with pretty elderflower notes layered with expressive fruit. It has a mineral tang and glossy weight.

Domaine de Chevalier, Pessac-Léognan $90
Expect good intensity in the nose; expect blackberry, cassis and vanilla – it's quite fragrant and expressive. It become smokier as it sits in the glass.
The palate is earthy with fine cocoa tannins
Good balance and structure.
Shows good value in this type of vintage.
Overall solid power, length and structure.


Château Poujeaux, Moulis-en Médoc $50
Again, quite intense cassis on the nose but with a seam of tobacco and fresh mint/herbal. It is textural, certainly greener than others but very nice structure. The palate is similarly earthy, and somewhat linear but still fleshy with quite powerful tannins. Overall pleasing – a very popular wine in the BC market.

Château Rauzan~Ségla, Margaux $99
This wine is more rustic – quite leathery but with classic Bordeaux nose. Expect some funky notes here alongside cassis and blackberry with vanilla and dried violets. Weightier than the Poujeaux (for example). Chocolate and dark fruits flavour the palate. It has good power and posture. Persistent with impressive tannic structure.

Château Léoville Barton, St Julien $138
Some hay and leather with oak dust, tobacco and warm berry compote on the nose. Fresh and juicy in the mouth. Slighter more linear but suggests it will age well. Very good structure with ripe tannins and tobacco flavours. Honest wine with good purity of fruit.

Château Duhart Milon, Pauillac $180
Rustic, bordering on sour fruit initially, basically a bit funky and mousy and overripe at the same time. As it evolves in the glass then pretty licorice and cedar, smoke and sandalwood with dried flowers appear.
Palate shows as more minty and herbal. More old school in style.

Château Le Boscq, St-Estèphe $39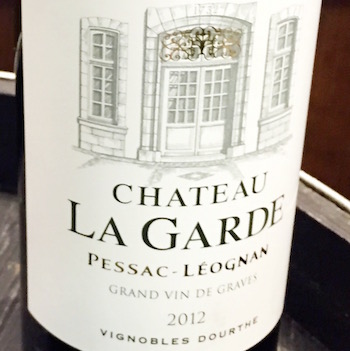 The nose was quite closed but hints of cocoa and earthy some herbal tones and dusty black plums make their way out of the glass. Good bones and balance. The tannin structure seem consistent across this vintage on most wines. Here, they are fine and powdery but present and drying. The finish is firm and tight.

Château d'Armailhac, Pauillac $78
A classic Bordeaux nose, which I like – leather, earth and tobacco alongside dried flowers.
Similarly earthy and a bit funky on the nose, seems less lively as well. Sausage and spice flavours in the mouth with dry but polished tannins.

Château La Dominique, St-Émilion $68
Spicy notes alongside fresh fruit - more red currents and red berries layered with vanilla and spice.
Nicely weighted, acidity is lively and the fruit is expressive. Impressive length and complexity for this price. Tannic structure is impressive and it is quite expansive.

Clos l'Eglise, Pomerol $125

We opened a second bottle of this wine as the first was faulty. The second taste offered licorice, tea leaf, molasses, vanilla and chocolate with some wild sauvage (bloody/wild animal) notes. Fresh palate with good fruit expression.

Château Guiraud Sautern $50
Honeyed with stone fruits and apricot tea aromas. Quite delicious and not as honeyed as typical vintages for this sweet wine, but overall very nice delicacy and freshness.

As a comparative from an earlier vintage, we tasted Château Mouton Rothschild Grand Cru, 2010:
The nose is a potpourri of cedar and dried floral notes. It offers wonderfully expressive fruit and the structure is powerful. Good acidly and balance. Nice silky weight offset by showy but polished tannins. Showing well right now.
Could cellar for 10-20 more years, easily. $1599




More 2012 Bordeaux wines available soon in BC Liquor Stores:

Château La Garde Blanc, Pessac-Léognan, 2012 $38

Flinty steely tension and mineral with fleshy weight and texture. Oily slick concentrated. Great length and freshness.
Chateau La Garde Rouge, 2012: Good freshness and power with vanilla and dynamic cassis notes.
Polished tannins very attractive weight. $48

Château Rahoul, Graves 2012 $28
Overall, drier and earthier and rustic. Expect dusty fruit alongside classic Bordeaux tobacco and dried herbs, smoke and animal.
Good weight and slickness in the tongue.

Château Marquis d'Alesme Becker, Margaux, 2012 $65
Quite closed but also more green on the nose – equally quite tough and tight with grippy tannins and bittersweet chocolate flavours.

Château La Conseillante, Pomerol, 2012 $180
Here is a much more modern and approachable style.
It is fruit forward and is laden with black currents and blackberry. It boasts an attractive slick glycerol weight. - intense yet complex with flashy oak.
A great option for new Bordeaux drinkers, albeit with a price tag much higher than other entry level Bordeaux offerings.

~Daenna Van Mulligen