Aug 24, 2015
The Rising Popularity Of Cool-Climate Chardy Takes Us Home

As trends go, the wine industry's obsession with the new look of Chardonnay is a good one.

Although it's not really new.

Like every industry we have trend swings.
Some are momentary fads while others become the new norm.
Cool-climate Chardonnay is definitely the latter.

If you've been a wine lover for more than a decade, you've probably gone through the ABC phase.
Anything but Chardonnay always seemed a bit hysterical to me (somewhat like Miles screaming in the 2004 movie Sideways, "I'm not drinking any xxx Merlot!") and pretentious as well.
Nonetheless, in the 2000s, the immense popularity of 1990s era Chardy had passed and drinkers began moving toward fresher varieties such as Pinot Grigio and Sauvignon Blanc (both of which are suffering from industry backlash as I type).

As the pendulum swings
Now, many of those same cynics have returned to embrace Chardonnay, while throwing your current favourite quaffer, under the proverbial bus.

Ah, but there is a difference.
Those butterscotch, caramel corn and oak chipped versions are not what everyone is excited about. Rather it's the return to a fresher style with bright acidity, tangy fruit and restrained oak.
Wines more unique to place than those of the sweet and rather generic era culminating in ABC.

Why is this not new, as I alluded before?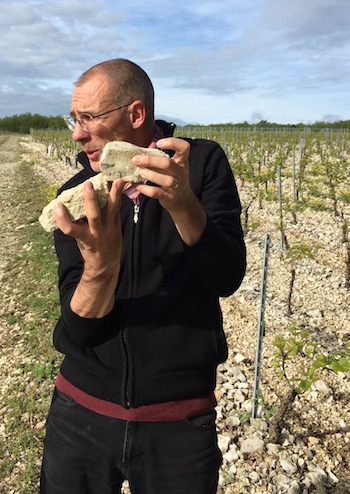 Because that's just what Chablis has always been about.

Soil and exposition
The northerly Bourgogne appellation is the home of Chardonnay.

Note: The Bourgogne Wine Board (BIVB) is now marketing it as Bourgogne, rather than the more familiar, Burgundy.

Located between Paris and Beaune, this special place although quite small, epitomizes inspirational cool-climate Chardonnay.

Within hours of my most recent arrival to the town of Chablis, I was jostling up the hillsides in a Citroen 2CV (Deux Chevaux). Destination, the Côte de Léchet on the Left Bank of the river Serein.
The first message was soil and exposition.
I would hear those words repeated dozens of times over the next four days.

Soil and exposition. Rinse and repeat.


As it turns out, Léchet is a perfect viewing point over the town of Chablis, the Serein (serene) River and the riverside Grand Cru vineyards on the Right Bank.

My guide and resident Chablis expert, Eric Szablowski

(above right)

, pointed out that Chablis has 120 hours less sunlight hours per growing season than Beaune.
With hand spread, he gestured to the valleys, which like his fingers, spread out and away from Chablis village.
Overall (with changes in certain expositions in individual valleys) the Left Bank faces north and east, the Right Bank south and west.
South, southeast and southwest are the best expositions, exactly, what the grand cru vineyards I was looking upon held.
Although wine has been made in Chablis for several thousand years, the important stuff happened much longer ago.
150 million years ago (give or take) the area was covered by water. The famous Kimmeridgian subsoil was formed, consisting of remaining oyster fossils.
This soil, so unique to Chablis, is one very important part of what makes these wines extremely desirable.

"All Chablis are Chardonnay, but not all Chardonnay are Chablis."

~Eric Szablowski

History and experience has shown hillside vines produce the best wine. The valleys, generally more fertile, produce less interesting and unique wines.
In many regions in the world, producers continue to plant vines higher and higher, in order to escape the heat of the valley floor below.
In Chablis they avoid the valley because it's too cool - frost prone and susceptible to disease caused by humidity.

Above the very unique Kimmeridgian soils (limestone, clay and fossilized oyster shell) are the newer Portlandian soils (limestone-based). Whereas Chablis' best wines are grown on Kimmeridgian, which lend wine a particular flinty or oyster-shell minerality, the hilltop Portlandian soils are generally relegated to the youthful Petit Chablis.


What's in a name?
There are four types of Chablis wines.
Each has their own appellation designation. By importance, Grand Cru, Premier Cru, Chablis and Petit Chablis.

Petit Chablis, grown on hilltops (primarily on younger Portlandian soils) is made to drink upon release. It is fresh and easy to drink, it can be simplistic when compared to the cru wines, but it's an everyday drinking white, after all.

Chablis wines are consumed similarly young and fresh, but boast more complexity and minerality.

Premier Cru and the rarer Grand Cru are best with age.
The focused acidity and flinty character become more harmonious with time. These are wines, which can be aged 10 or 20 years and sometimes longer.

Climats
If you have more than a casual interest in the wines of Bourgogne, you'll have seen the word climat pop up before.


In Chablis: A Geographical Lexicon, Jean-Paul Droin notes, climat is a traditional Bourgogne word, meaning slope.
These precise plots of land are chosen due to their rare or particular terroir (geological and climactic).

In total there are 47 climats; 40 Premier Cru and 7 Grand Cru.
The Left Bank includes 24 Premier Cru, some notable ones: Beauroy, Vau de Vey, Côte de Léchet, Les Beauregards, Vosgros, Montmains and Côte de Jouan.

The Right Bank is home to the 105 hectares of Grand Cru climats of Blanchot, Les Clos, Valmur, Vaudesir, Preuses, Bougros and Grenouilles.
Notable Premier Cru climats (of 16) are: Vaucopin, Les Forneaux, Mont de Milieu, Fourchaume, Montée de Tonnerre and Beridot.

Obviously, parcels of vineyards and location/climat is very important to a wine producer.

"Eighty percent of the wine is made in the vineyards. If you have bad grapes you can never make a good wine. If you have great grapes you can still make a bad wine. So the winemaker is [also] very important"

~Eric Szablowski

Later, standing between the climates of Les Preuses and Vaudesir, Szablowski

(photo below)

points out the difference of soil composition in such a small area - from compact brown clay to calcareous limestone. Additionally, more austere grapes come from mid-slope while grapes grown on the lower, gently-sloped portion of the vineyard offer softness.

Overall, producers seem happy with the 2014 vintage - it expresses classic character but with somewhat tamed acidity and ripe fruit. Comparitively the 2013 vintage was more challenging with more disease pressure.

This was only the first morning of my full immersion into Chablis.

Chablis by the numbers
Cistercian Monks began growing vines here in the 12th century.
The AOCs (Appellation d'Origine Contrôllée) for Chablis, Chablis Premier Cru and Grand Cru were designated in 1938
The AOC for Petit Chablis was designated in 1944
Total production area, 5284 hectares (2012)
Chablis produces 20% of the total volume of wine in Bourgogne
There are roughly 300 estates in Chablis
One-quarter of Chablis wines come from cooperatives
65% of all Chablis wines are exported

Source: Bourgogne Wines (BIVB) and Chablis: A Geographical Lexicon by Jean-Paul Droin

---
Domaine Isabelle et Denis Pommier
In 1990 this husband and wife team took on 2.5 hectares from Denis' grandparents.
Since then they grew the vineyards to 18 hectares and became certified organic in 2014 (only 11 of the 300 or so estates are currently certified).
They have vineyards in several Chablis appellations and one red Bourgogne as well.
They built their home and winery in the early 1990s and their first bottling was in 1994.
The winery sits on an old cellar, believed to be about 200 years old, where was able to taste their wines.
Overall, they are pure and accomplished wines, reflective of the Pommier's vision.
This estate sells their wines in Quebec and Alberta.
Website

Wines

Petit Chablis 2014 Hauterivien

The Hauterivien (a proprietary name) is named after the oyster shells found in the vineyard. They have a large parcel on this site with rare soils only found in only a tiny sliver of Chablis. Aromas are pretty and floral and mineral with crisp fruits tree, and honey and fleur de sel. Some herbal notes
Racy and lively with flavours to echo the nose - the finish is pristine, mouthwatering and lengthy. Impressive complexity for Petit Chablis.

Chablis 2014
Delicate nose, floral and fine white fruits on the nose. It is comparable on the palate, which is fresh and delicate. Part left bank and right, Portlandian and part Kimmeridgean soils from vines 25 years of age. No oak, all stainless steel ferment and age (was bottled only 15 days prior to my tasting).
Fine boned, fresh and easy to drink. I could easily drink this wine all afternoon.

Chablis 'Croix Aux Moines' 2013
This wine is reflective of the site. It is very mineral-focused and fresh, fine pristine character with a lovely delicacy. Pristine yet weighty with very good length consisting of minerality and acidity. Wonderful balance and good length – an elegant wine.
Additionally: it was 60% stainless steel fermented, the remainder in old barrels. Aged separately for one year then blended and kept to harmonize for three months.

Chablis 1er Cru Beauroy 2013
Beauroy quickly became one of my favourite climates on this trip. This particular premier Cru was 60% stainless steel tank fermented and the rest in barrels of different ages (5% new oak). After keep six months on lees (separated) it was blended. The 5% new oak shows, but only as a seasoning. Spice and mineral are held up nicely by citrus. Lovely fruit expression, pristine but rounded out by deftly by oak. Nicely handled layers of nuts, spiced butter and ripe golden fruits.

Chablis 1er Cru Côte de Léchet 2013

Like the Beauroy, this premier Cru was 60% stainless steel tank fermented and the rest in barrels of different ages - with just a touch of new oak. After keep six months on lees (separated) it was blended.
The nose offers lemongrass and tangy citrus some faint oak spice and browned butter.
The palate is nicely weighted and creamy with similar character balance good length and nice zesty flavours layered with mineral, smoke and spice. Nice length and acidity. The limestone soil grown wines such as this one see less oak, purposefully, and display more obvious focused acidity.

Chablis Fourchaume 1er Cru 2013
Fermentation here was 30% in old barrel (rest in stainless steel) left one year on fine lees then kept six months together after blending before bottling. Nice leesy brioche notes, lemon curd and browned butter, mineral notes . Lovely palate, weight, mineral more power, velvet glove. Grows on the palate with potent ripe fruit – golden, long tangy citrus. Elegant and quietly powerful.

Bourgogne Pinot Noir 2013
A nice change of pace, this Bourgogne is redolent in sweet raspberry and cherry - very floral and pretty. Fresh and juicy with a similarly expressive palate – nice pomegranate notes here. It has slight cocoa/tobacco bitterness alongside spice on finish. The tannins hold with good grip. Overall, good structure and balance.

---
Château Long-Depaquit
Host: Matthieu Mangenot - estate manager and winemaker.
Founded in 1791, Long-Depaquit is a beautiful chateau in the heart of Chablis village. The estate's holdings are roughly 67 hectares, of that is included 15 hectares of premier cru and 10% of the entire grand cru climats. They are owned by the larger and well-recognized Bourgogne company of Albert-Bichot. Mangenot explained that the estate prefers restricted yields and environmentally friendly practices in the vineyard and
non-interventionist winemaking with very little oak use, to preserve the expression of each wine and each terroir.

Website

Wines
*Chablis 2013

Nice straw into golden colour some waxy citrus peel notes lemony, crunchy white fruits and golden pineapple hints and wild flowers.
Crisp with racy acidity, mineral texture and focused. Quite taut and austere style, bone dry with great tension. Flavours of lime pomelo and lemony with some honey and a waxy finish.

**Chabis 1er Cru Vaillons 2013
Same lovely golden straw colour as the regular Chablis with notes of lemon wax, richer golden fruits and mineral. Nice but served quite cold, which had it close up on me. The palate offered lemon seeds earthy mineral flavours. Good tension and focus with a load of minerality. Good power and intensity with great length. Very classic.

***Chablis 1er Cru Les Vaucopins 2013

The 15% oak fermented portion of this wine gave it broadness and richer nose that was both ripe and powerful. Think golden fruits; pineapple and golden apples with sweeter honeyed undertones.
Weighty and powerful, focused acidity.

***Chablis Grand Cru Les Blanchots 2012
The Les Blanchots has 25% oak ageing and comes across quite toasted. Notes of toasted nuts, spice and grilled lemons with some roasted pineapple and browned butter and smoke. Later some honeyed notes join the fray. Good balance of oak on the initial entry, here the fruit still shines through but then oak comes around to bully it a bit. Despite that, oak is still not overpowering, quite balanced with tangy citrus and mineral on the finish. Vines are harvested from a cooler eastern location. The oak shows more than on the Les Clos (next wine) despite it being less. The finish is very lemony.

***Chablis Grand Cru Les Clos 2012
The maximum amount of oak Long-Depaquit will use is 35% for ageing, this one has that. Site handles it well and it has less overt oaky notes than Le Blanchot (previous). The nose and palate are quite fleshy.
Expect some smoked nuts and mineral alongside grilled lemons but it's nice clean, boasting golden fruits - star fruit almost guava, with honey. Ripeness here is more obvious, handles the 35% oak nicely, in fact the oak is nicely woven in to add complexity and character. Nice finish but needs some time, a bit tight. A "fat baby" with a powerful mineral flavoured and phenolic textured finish. Love it.

**Chablis Grand Cru Moutonne 2011

This is a monopole vineyard. The wine is golden in colour and the nose is like nothing I've smelled before. Like Semillon it has candle wax and honey and lanolin, lemon grass (herbal hints) and ripe golden fruits. But then savoury notes of briny olives and roasted nuts liberally sprinkled with fleur de sel.
Seems almost over the hill, oxidized character moving into dried pears and dried pineapple with loads of lemony character to control it. Expect toast and spice – plus a very savoury finish.
Very good weight and focused acidity with exceptional length and boasting a mineral/oyster shell finish.

(Vineyard photo above right)



***Chablis Grand Cru Moutonne 2007


Pineapple chunks, honey and lanolin, lemon marmalade, arpicots and guava. Later toasted nuts, which also appear on the palate. The palate is honeyed and rich, lovely acidity focus and length is incredible. Powerful, rounded fleshy and elegant oyster shell and flinty character so classic here.
Moutonne wines can apparently be quite frightening when they were young – the acidity can be so intense.

*Very Good **Excellent ***Exceptional

---
Domaine Séguinot-Bordet
The historical roots of Domain Séguinot-Bordet began in Maligny (8km north of Chablis village) in 1590. The family owned and run domaine is comprised of 16 hectares on the right bank. I sat down with 13th generation winemaker, Jean-Francoise Bordet for dinner at Chablis' most charming restaurant, Au Fil du Zinc

(right)

, which bridges the Serein River in the heart of Chablis village.
Bordet is also the Vice-President of the Chablis Commision of Bourgogne Wine Board.
The wines are farmed organically, which was traditional. However they are not certified.
Bordet took over from his father 18 years ago. The vineyards came from his mother's side.

Wines
*Petit Chablis 2014 (bottled 3 weeks before I tasted it)
Bordet feels 2014s are more elegant than 2013s.
Lots of fruit here, floral, lemon verbena and a sorbet of orchard fruit drizzled with honey. Fresh, electric and racy some phenolic on the finish with good minerality Nice focus on acidity. Good power for a Petit Chablis. Delicious.

*Chablis 2014

Under screw cap, this wine only sees stainless steel with 6-7 moths aging on lees. It boasts forward fruity components good power and structure. Notes of honey and acacia with mineral and sweet citrus.
The sweet fruit is echoed on the palate. Focus and intensity pristine but also good power and racy acidity.


**Chablis 1er Cru Fourchaume 2014
A baby with intense power. Citrus, crunchy fruits and acacia, floral and some intense lees stirring creates a phenolic finish. No oak contact just lees stirring. Great bones – would like to taste again in the future.

**Chablis 1er Cru Fourchaume 2013 The Fourchaume shows its intensity again. It boasts the same honey, acacia and lemony citrus as the 2014 but with a plumper palate less fruitiness. More citrus/grapefruit. Quite powerful and weighty.

*Very good **Excellent

website





---
Château de Béru
The Béru family has owned the Chateau in south-eastern Chablis for more than 400 years. It is now partially restored and is home to an incredible piece of history, one of two moon calendars still remaining in Europe – the other being in Cambridge in the UK.
Athénaïs de Beru is the 21st generation. The estate had always produced wine until the phylloxera epidemic in the late 1800s.
Her father, Comte Éric de Béru had a dream to return to winemaking.
He replanted the vineyards in 1987 along with the famed monopole vineyard, Clos Beru. Unfortunately he passed away too young and the vineyards were handed off to a neighbor on a 35-year lease.
Clos refers to the 13th century walls built around the chateau and estate.


Meanwhile, Athénaïs, who grew up in Paris, was working in finance. The man who had been leasing the land decided to retire - the only problem... he was only 20 years into the lease.
Athénaïs and her family sat down, needing to make a decision, quickly.

"We had a family meeting, my mother did not want to take it over, my brother had no interest so I took a few days thinking about it. When I made the decision I was held to it."
In 2004 she gave up her career, a pending international move and city life to move to the village and make wine.
The man leasing the vineyards agreed to postpone retirement a few years to assist her in the transition. Every year between 2006 and 2009 she took control of more vineyard. In 2010 she transitioned the vineyards to biodynamic and meanwhile with the assistance of her mother, Laurence, they have opened up some of the recently renovated chateau and added a B&B and a summer wine bar.

"You must do everything. I spend a third [of my year] in the vineyard, a third making wine and a third marketing.

~Athénaïs de Béru
Built in the 13th century, it is the oldest clos in Burgundy.
The orangery within the clos

(above right)

is a French historical monument. Having that designation helps with a small (20%) of the chateau's maintenance. It has a whopping one-hectare of roof alone, so you can imagine the cost. To obtain funds from the government you must be open to public and must maintain and stick to guidelines on maintenance.

The hill of Béru, at the chateau is one of the highest vineyard sites in Chablis at 350 meters. That means it is always windy, but it is also in a hail path.
If Chablis gets hail, Béru gets it much worse.
One recent vintage 70% of her crop was destroyed. Still, she marches on.
She adds what she needs to the historic but virtually archaic winery only when necessary.
Her long term goal, rebuild the entire interior of this winery part of the chateau.
She's extremely passionate about biodynamic viticulture and relies upon others with the same drive to learn from and share with.

As far as her Chablis, well, she only had a couple left for me to taste that day - sadly, as her dedication is contagious. I did try a barrel sample as well.
Wines
2014 Vaucoupin (barrel sample)
Light caramel and honey from oak contact with a savoury character. Very expressive and broad with good power. Very young but shows elegance. She loves long contact with lees and ageing in oak (prefers larger format barrels). She does no battonnage as she explained; natural wines do their own natural battonage.

**Clos Beru 'Monopole' Chablis 2011
Smoke and oystershells, flamed orange peel (bottled for one year) fleur de sel, warm golden fruits and licks of caramel. Wonderful phenolic textural, a mineral focus, savoury hints and great tension. Flinty, smoky, very citrusy.

***Clos Beru 'Monopole' Chablis 2009
Great character with a slightly aged honeyed and salted caramel tone with golden and ripe fruits. Generous weight and power, silky and rich, complex and lengthy.
Gorgeous and thoughtful and textural. Great length. Loads of personality.
**Excellent ***Outstanding

"It's a blessing and a curse, having the name of Chablis behind you when the price is not reflective of big volume Chablis.
You don't find a strong difference [between big volume wines]. It does not mean they are not good, but you don't find the personality behind them. It means we will make wines some people like and some won't, we don't want to make wines to suit 100% of the population - they are wines with strong identities."

~Athénaïs de Béru
website
---
Domaine Hamelin
The Hamelin family harvests grapes from close to 37 hectares. These vines extend over three villages: Poinchy, Beines and Lignorelles while the new winery is in Lignorelles. The Domaine produces four white Bourgogne wines: Petit Chablis (9.95 hectares), Chablis (19.4 hectares), Chablis Premier Cru "Beauroy" (3.9 hectares) and Chablis Premier Cru "Vau Ligneau" (3.5 hectares).
The line of wine began in 1840 by Gustave Hamelin - now eight generations later, it is run by Thierry Hamelin and his son, Charles.

Wine
**2014 Petit Chablis
Expect a very pretty floral nose laden with orchard fruits and pristine mineral and citrus – exotic nose. Bottled 3 months ago and it's extremely fresh.
Mouth is very silky ad quite concentrated and very pretty. I could drink this all day.

**Chablis 2014
Mineral and citrus are primary but flow into wild flowers and honey and crisp golden fruits. Nice ripeness here with nice crisp mineral characters but also an attractive roundness on the palate. Solid style, clean and fresh but acidity does not dominate. Lees stirring creates a nice complexity and roundness here.

***Chablis Vieilles Vignes 2013

This old vines (vieilles vignes) vineyard planted between 1902 and 1904 (depending on if you ask Thierry or Charles), which still makes the average age of its vines 70 years old. It is mostly Portlandian limestone soils.
This wine was left to age 5 months in 500L barrels to give some extra character rather than oak flavours. It lends great richness for sure. Hints of spice and peel of citrus with dried flowers and honey. Palate is gorgeous and plump, much more concentrated and fuller-bodied than their basic Chablis. The palate has a hint of spicy with citrus peel fantastic, richness of grapefruit and slightly burnt orange peel with a lanolin type character.
Fantastic.

***1er Cru Beauroy 2013
On this trip, I learned that Bearoy had become one of my favourite climates. The nose is very pretty with floral and stone fruits, peachy and guava supported by mineral notes… but mostly floral and honeyed. Weighty and concentrated gorgeous fruit and marmalade-type concentration and elegance. The palate the nose but with amazing power and focus.


Powerful and savoury. A great pairing with warm gougeres or hard cheese.

**1er Cru Vau Ligneau 2012
Very salty and mineral notes with less overt fruit, staring to get more complex and zesty, more muddled and zesty. More chalky and mineral focused than the Beauroy. 2012 was also a warmer vintage to compare. The vineyard is a steep sloped one with Kimmeridgian soils butting against Portlandian. It's also a closed valley, adding protection and allowing good ripeness.

Additionally, as a wonderful treat, we tasted:
***Beauroy 1er Cru 2010
***Beauroy 1er Cru 2008 in magnum - both fantastic and showing well still fresh, but with more depth and roundness with age.
***Vieilles Vignes Chablis 2010 similarly showed wonderful liberal fruit and lively acid.
***1er Cru Vau Ligneau 1996 showed fantastic tension, exciting honey, caramel and golden fruits.

*Very Good ** Excellent ***Exceptional

website


---
J. Moreau et Fils
One of the biggest names in Chablis, which was founded in 1814 by former tonnelier (barrel maker), Jean-Joseph Moreau.
This negotient no longer bears link any link to the Moreau family, after it was aquired in 1997 by Côte d'Or's Boisset Collection.
Late on the afternoon of May 5th, I met with winemaker, Lucie Depuydt at the Chablis village winery.
Depuydt explained that last year was 200th anniversary of the company.
Their first sales exports were in 1920 then the range grew to Loire and Languedoc in 1970.

J. Moreau et Fils has three levels of wine:
House wines (base/regional level)
Classic lines, which include Chablis region (mid-tier)
Grand Cru (top level)

Depuydt (who has been with J. Moreau since 2007) explained the climate in Chablis is closer to that of Champagne than the rest of burgundy.
Additionally, it's closer to Champagne in proximity – meaning it's better suited (in reality) to sparkling wines.
It has a harsh and difficult climate with later bud break, spring frost threats and two to three weeks later ripening than the rest of Bourgogne.

Additionally, Chablis is prone to very high precipitation, especially during ripening period, which makes it difficult to ripen.

The soils, as I was reminded, are clay and limestone type blend in the Kimmeridgian, regarded for its rare oyster shell fossils. The second layer is comprised of Kimmeridgian limestone.
There can be very different circulation patterns of soils on the same slope.
Hard Portlandian limestone rests on the hilltops, an area sensitive to frost.
Basically, there are 11 different types of soil in the vineyards from the north of Chablis to south. One vineyard can have several different parcels of different soil types, which must be monitored.
Chardonnay is very sensitive to oxidization, more so in Chablis than the Chardonnays in other parts of the world, due to the climactic conditions.
Perfect grapes are necessary, as you have no way to hide or change the flavour – you only have good fruit.
At J. Moreau she uses only 1-2 year old oak barrels and up to 20% juice - in 1er cru and grand cru – they buy used barrels

J. Moreau makes all it's wines from contracted growers and they work with about 15 growers.

Wines
**Saint Bris 2014
Saint Bris is the only appellation in Bourgogne you can produce Sauvignon Blanc.
Expect beautiful gooseberry and grass clippigs with passion fruit and nettle and mineral. Quite verdant and lively on the palate, very expressive as well, similar to Kiwi style. It is very lively with good tension and expression. Very tangy, a long finish with some pithiness. 90% export.

*Petit Chablis 2014
More sweet and delicate fruit here. Crunchy orchard fruit and floral and honey. Fresh and approachable, but a bit sweetish on the palate. Good ripeness and easy to drink – approachable. Racy finish with lemony flavors. Very tasty

*Chablis 2014
Crisp and citrusy, tangy citrus and mineral with wild flowers with lanolin. Quite subtle on the nose. Classic style of Chablis - very tangy and fresh. Moreau strives to have good consistency and typical character

**Chablis 1er Cru Vaillons 2013
20% is aged in 1 and 2-year-old 228L oak barrels.
Nose shows some of that oak complexity with buttery notes and nuts and golden fruits (yellow apples) with hints of wild honey and caramel whiffs. The palate is creamy and buttery but offset with good acidity. Solid style with a very creamed butter finish and slightly tangy citrus peel residual flavour on the finish. Balanced oak, well-managed

**Chablis 1er Cru Mont de Milieu 2012
20% is aged in 228L barrels of 1 and 2-years-old.
Similar to the Vaillons the nose offers buttered nuts and smoke with less floral and fruity nuances – dried fruits almost. The palate is creamy with sweet hazelnuts and vanilla highlighted by the roundness on the palate. Very approachable solid style, good character without being overly complicated.

**Chablis Grand Cru Valmur 2012
25% is aged in 228L 1 and 2-year-old barrels. Expect nice complexity on the nose, some nutty aromas, ripe fruits – golden fruits and honey with acacia.
Beautiful weight and freshness. A creamy edge but mostly very bright and lively. Slightly more mineral Character on the Valmur, and the acidity is not aggressive.

***Chablis Grand Cru Vaudesir 2009
Very golden in coulour with nice richness on the nose; beeswax, lanolin, lemon oil and smoke with buttered nuts and fruit patisserie, apricot in honey – dried apricot, dried pineapple... Very appealing. Glorious on the palate, lovely weight and great tropical, vanilla and patisserie flavours. Excellent complexity and length. Fine zesty and almost spicy finish.

*Very good **Excellent ***Exceptional

website
---
Domaine Jean-Paul et Benôit Droin
The Droin family is one of the oldest in Chablis.
Fourteen generations of vignerons have passed their knowledge down from father to son, since 1620.
The family now works 26 hectares of vines – primarily from leased sites. Those sites cross 16 appellations. Of the 26 hectares 11 are Premier Cru and 4 are Grand Cru.
In 1965 Jean-Paul joined the family business and learned his profession from his father, Paul and grandfather Marcel. In 1999, Jean-Paul's youngest son Benôit

(right)

, representing the fourteenth generation, started at the Domain after having spent five years studying for the National Diploma of Oenology at Beaune and the University of Dijon. He is now chief winemaker in the new winery built at the foot of Chablis' Grand Cru vineyards.
After tasting some of the Droin wines on my first day in Chablis with BIVB, I was excited to get the opportunity to taste more with Benôit.

Wine
**Petit Chablis 2013
Racy. Lime focused and quite minerally on the nose. Benoit explains it was a simple fermentation simple in tank, nothing added. All natural ferment no yeast added, all from the vines – he wants the terroir to show through. Faint floral notes with honey, very focused and pristine palate. Very attractive mineral component and bracing acidity.

**Chablis Village 2013
Clean and racy with citrus and mineral. Quite lean and closed on the nose when tasted but obvious lemon/lime nose. The palate is richer here some, nice crunchy white fruits and some smoke and mineral. Lovely expression of the vineyard.

Accoring to Droin, in the vineyard his new method is to spray or add chemical or biological product only when needed as they know more about when and how to use it to combat disease now. It used to be systematic spraying in Chablis (still is for many) but now he and others use it judiciously - only when necessary.

***Chablis 1er Cru Vaillons 2013 A pretty nose with smoke and flint at the core but sweet citrus and plenty of acacia flowers overall. On the palate it has a somewhat leaner profile but with loads of citrus and mineral with nice weight and a hint of creaminess, nuts and smoke.
This wine stays on lees for six months. Benoit believes that by stirring/moveing lees you lose freshness, minerality and character. After its time on lees it is removed and 15% is placed for 8-10 months into barrel.

**Chablis 1er Cru Montmains 2013

Montmains has richer, deeper soils with dominant clay – it is a low sloping vineyard.
Nose is richer than the previous premier crus tasted. Classic to this wine, it is quite toasty with browned butter and grille (toasted notes) and some nice ripe golden fruits and sandlewood underneath. Similarly the palate is richer and toasted, buttery with nuts grilled in butter. There is more obvious oak here. Benoit says Montmains likes more oak. After six months on lees (no stirring) 30% of it is moved to oak and left for 8-10 months.

**Chablis 1er Cru Mont de Milieu 2013
This wine comes from the sunniest part of the cru, the vineyard is entire sun facing so you see a lot of ripeness/maturity in this wine.
It's a bit more of a commercial version of Chablis – perhaps for those who don't like a lot of tension or mineral in their whites.
The nose offers peaches and apricots, honey and exotic citrus (more Meyer lemon than traditional). The palate is rich, honeyed and ripe, redolent with spice and stone fruits as well as floral and nice. Yes, it is more approachable but has lovely roundness, a seductive weight and attractive aromatic expression.

**Chablis 1er Cru Fourchaume 2013
This wine can be somewhat intimidating – both with strgnth and mineral character. The soils in this cru can be richer in some areas - with deeper soils, depending on where you are located and the exposition. Droin is on the corner of this long appellation; his site is southwest facing with those deep soils.
Nose: buttery pastry ad nutty, smoke, grille and hints of burnt brown sugar/butter. Richer, deep grille and buttery, weighty but balanced with racy acidity. It spent six months on lees (again no stirring), and then 50% went into oak barrel.
The oak is certainly there but is balanced on open.

***Chablis 1er Cru Vaulorent 2013

Vaulorent is part of Fourchaume but Benoit feels this wine is more like a grand cru, the vineyard is right beside the grand cru Preuses, the soils and exposition are the same, only a road separates these two.
The nose proffers acacia and citrus blossoms, crisp white tree fruits and flinty mineral notes - feminine and pretty. Nice finesse, fine-boned and chic, complex and minerally with a white grapefruit-y finish. 2013 was his first vintage on this site.

***Chablis 1er Cru Montee de Tonnerre
Aromas are charming; acacia with pristine orchard fruits, clean mineral backbone but very pretty nose with wild honey at the core. The mouth is luscious and seductive – not fat but silky but very ethereal and light on the palate. Excellent length with a slightly phenolic finish.
The wine saw 25% oak. It has good ageing quality – usually it's a wine not accessible when young. Droin says it best after 10 years.

***Vaudesir Grand Cru 2013
Mineral, note first – it has a bit of reduction but nonetheless is delicate and feminine and floral - classic style.
It is fine boned and again very pristine and ethereal. Flavours of acacia and fleur de sel are layered with delicate white fruits, pomelo citrus and mineral.

**Valmuir Grand Cru 2013
The Valmuir offers richer fruit - it's more golden and ripe with less delicate minerality and finesse - more overt richness with honey and spice and a buttery weight. There is additional power even on the palate than the nose; it expands in your mouth. It is very long with an almost oaky finish alongside wet stone mineral flavours and a phenolic character. A wine best served with creamy sauces, roast chicken and foie gras.

**Grenouille Grand Cru 2013
Less classic Chablis, not as mineral focused but easier to drink young.
Nose: sandlewood and acacia with nice ripe golden fruits, yellow apples lounging and pears in honey. The palate stays true to this and is ripe, spicy and rich with buttered croissant flavours.
These are Droin's oldest vines at 68 years old.
The Grenouille vineyard in owned by the Droin family.

*** Les Clos Grand Cru 2013
It is a very particular expression of terroir in the Les Clos – it is very oyster shell and flinty – the most classic of Chablis. Next, lovely delicate floral acacia and honey yellow apples and pear. Very fine boned on the palate but with an intriguing richness. The flavours are oyster shell and expressive grapefruit on the palate. Amazing weight, purity and length the only place the oak shows in the extensive finish.
It is hard to believe this wine has seen 50% oak.
As Droin says, "It is synergy, 1+1=3 in this case – it is even better after the blend of the 50% oak."
The site is Kimmeridgian blue clay and rock - blue clay, which has no oxygen, means reduction of the clay. When you open it up and the clay breath, it changes colour. This also explains the concentration of the wine as the blue clay is extremely dense and it is very difficult to get the roots through the clay, resulting in this phenomenal intense and Chablis terroir wine.

*** 1998 Vaudisir Grand Cru (magnum)
An absolute treat. Golden and ripe on the nose dried pear and patisserie with sous bois, mushroomy/truffle alongside dense honeyed notes with apricot turnover.
Weighty, ripe and rich on the palate. Nutty and earthy, savoury and sweet … it's a patisserie and on the palate as well. Incredibly long and expressive, this wine clings to the palate with an almost oily, waxy and lanolin character.
Benoit says 10 years more in a magnum wait maybe a little more in a regular bottle – say 20 years.
Fantastic.

*Very good **Excellent ***Exceptional

When discussing the overwhelming price of vineyard land and overall cost of making wine in Chablis now, Droin said this:
"We have to conserve what we have (pay it forward) but it's difficult to do now. What we could do in the last generation will be very difficult to do in the next.
Cost is more, the product, the employees and everything costs more - it has not finished – that will continue.
In the last four vintages we've lost one entire vintage. The cost of working now is much more even with knowing how to deal with disease et cetera."

Droin explained that in a good year his quantity is 180,000 to 200,000 bottles. In 2013 he lost 40,000 bottles due to poor vintage.

website

---
Château de Chemilly
Chateau de Chemilly was founded by brothers Joël, Jean-Pierre and Philippe Vilain. The three brothers rented vines initially then gradually began planting their own Chardonnay vines. Today they own 27 hectares (44 parcels) in Chemilly and the next generation of family, Loïc and Yannick Vilain maintain the family tradition. In translation I understood that the Chateau and surrounding estate used to belong to the family and was sold off. The family was able to purchase most of it back in 1973 - sadly it is great need of restoration. Apparently, is was previously known as Domaine du Guette-Soleil and wine was made under that name, although the younger generation of Vilains decided Chateau was a more prestigious name for a label. Hopefully the Vilain family can achieve that in their generation.
Vilain explained that they have 20 hectares of vineyard in Chablis, 4 hectares in Petit Chablis and 1.5 in Premier Cru. The remainder is Coteaux de Bourgogne - Bourgogne Blanc. They produce a large amount of bag-in-box wines to see to wine bars, restaurants and cafes in France.
The village of Chemilly is far removed from most of Chablis' crus is about 20 minutes southeast of the village of Chablis. The Vosgros climat where Chateau de Chemilly has their Preier Cru vineyards is farther north close to the village of Chichée.

I met with Loïc Vilain

(above right)

who was working at Jean-Paul et Benôit Droin (above) when his father passed away several years ago - he came to join the family business at that time.

Wines
*Petit Chablis 2013
A nice golden straw colour with notes of lemon curd, mineral and both tart and crisp summer fruits with hints of dried flowers. The palate has a chamomile tea hint to it and great acidity - citrusy with a mineral core. Good length. Solid style and easy drinking but not simple. The finish is mouthwatering and tangy.

*Chablis 2013
Expect some mineral mixed with waxy citrus, smoke and fleur de sel with some wildflowers. The palate is lively and fresh with good balance, nice weight and salinity. The finish is lemon pithy and smoky. Good acidity and classic Chablis style.

**Chablis 1er Cru Vosgros 2013
Mineral, earthiness and smokiness on the initial sniff then layers of fleur de sel and golden fruits with lemon marmalade roll in. The palate is more complex, richer and tastes like it smells. Racy but balanced acidity and good power and concentration with a nice yellow apple finish. Solid style straightforward with good expression of the left bank soil.

**Chablis 2012

The additional age on the Chablis is a good thing on this wine – it is lemony and flinty with smoke notes, golden apple and hints of nuts and butter (albeit faint). Very good acidity and concentration some phenolics to add texture. Good weight and structure - classic Chablis. It is long and smooth with a mouthwatering finish.

**Chablis 1er Cru Vosgros 2012
Apples and some smoked/earthy notes with mineral followed by classic lemony notes with some wild flowers. More weight in the Vosgros with some browned butter and bruised yellow apples – not in a bad way. Good mouthwatering acidity and very good length.
Expressive and solid right through the finish.

*Petit Chablis 2014
A beautiful nose of floral acacia and a sorbet of fruits - both expressive and juicy. A wine with loads of fruit and good concentration. Delicious – a wine I could drink all day long.

*Very good **Excellent ***Exceptional

website

---
Domaine Pattes Loup

Thomas Pico grew up in Courgis, where his grandfather and father were wine producers.

Pico inherited their passion and after studying viticulture, returned to the family domaine named Bois d'Yver.
He took over 6 hectares of vines and created his own history, Domaine Pattes Loup. Pico received a certificate of Specialization in Organic Agriculture, in 2009. He acknowledges that growing organic vines in Chablis is a challenge.


Pico's vines are between 6 and 60 years old. Since founding Pattes Loup, Pico has added more land and now holds15 hectares. Although not all are in production yet, they are all organic since he stopped all chemical spraying in 2004.

Additionally, Pico uses only small amount of sulpher when bottling and prefers to age his wines in larger format barrels.

The production of Pattes Loup is very small. Fifty percent is exported but is spread to a lot of countries. Canada sees a small amount.

**Chablis 2013 Vent d-Ange

Foral and leesy on the initial nose and followed up with crisp fruits and honey. The palate follows suit - pristine with a hint of complexity from a small amount of neutral oak. A fresh and honest wine.

**Cotes de Jouan 2013

Great expression. Like the Ven d-Ange it is again pristine with white fruits, honeysuckle and some sweet butter aromas. Focused acidity on the palate and rounded out with some caramel notes. A lot of tension here but nice creaminess and fruit to balance.
***Vaillons Chablis 1er Cru 2013
Expect peach, guava and honey with sweet citrus aromas frontloading on the nose. It has a plush palate, sweet and plump - very satisfying and generous but wonderful concentration as well.
A small amount of oak ageing blended with some wine aged in concrete eggs.
***Beauregard 2013
The Beauregard vineyard vines are roughly 25-years-old. The site sees light in the morning and it has a higher altitude. It is floral with expressive fruit; a sorbet of stone and tree fruits with honey. The texture is creamy it is charming and juicy. Again, a pristine and honest wine – a common thread among Pico's wines.
***Butteaux 2013 1er Cru
Tropical guava and tropical notes lead the charge, loads of freshness and spring blossoms – a seam of style throughout all of these wines. Clean and citrusy but with a creamy edge, which cuts the acidity. Racy and quite intense but wonderfully managed.
**Excellent ***Exceptional
"It's for me, my employees, my family, and for those who drink my wine…"

~Thomas Pico, explaining why he is so passionate about organic wines
website
---
La Manufacture
La Manufacture is a project founded by Benjamin Laroche of Chablis' prominent Laroche wine family.
With generations of wine as part of his history and a solid working knowledge of all aspects of the wine industry, he decided to produce his own line of negotiant wines.
Laroche felt this move was very strategic – he can play with many options from several vineyards and plot selections without having to invest in the land.
When I tasted with Laroche at his home in the village of Maligny he explained how his experience was in part, thanks to working with his family's company, Domaine Laroche.
When he joined them in 1999 his uncle thought it was imperative for him to see all parts of the business. So, beyond the fact that he had been working in the vineyards since he was 14 years old he also worked on the bottling line, in the cellars, in public relations, accounts and then on the commercial side, selling in Asian, Africa, Canada and Eastern Europe.
He came to understand what people wanted.
Only his second year in at la Manufacture when I tasted the wines, he was already selling to Australia and soon Abu Dhabi.
All his wines currently come from Chablis as well as nearby Cote d'Auxerre and Saint Bris.
He only produced a few barrels of each – his goal, show the elegant side of Chablis.
The catchy art nouveau labels pay homage to Paris' famed Metro signs.

Wine
*Saint Bris 2012

A fresh Sauvignon Blanc with aromas of mineral and nettle, more wild herbal and gooseberry than tropical fruits, with some elderflower hints.

*Bourgogne Pinot Noir, Cotes d'Auxerre 2012
The grapes for this Pinot come from Saint Bris, from a plot right beside the where the Sauvignon Blanc is grown. Brilliant ruby in colour with a very bright and tangy nose, rhubarb, red cherries and pomegranate dominate.
It's a leaner style but very fresh, juicy and approachable in the mouth. Some fine, tealeaf tannins and sour tangy red fruits on the finish - decent structure.

*Bourgogne Chardonnay, Cotes d'Auxerre 2012
Very pretty floral acacia and honey with golden fruits, pretty classic but less mineral than most I'd tasted this week. Oak spice flavours with some caramel round it slightly but it's mostly fresh.
Very light fresh style.

*La Manufacture Petit Chablis, 2013
Good lively character with crunchy white fruits and citrus. Mouthwatering style, very clean and fresh with a hint of mineral backbone. Linear and less orchard fruit the style is clean. The grapes are from Beins, the western side of the left bank.
Good citrusy finish.
Wants versatile for a bistro or with food. He feels it should be thought of as an appellation and treated as such.

*Chablis 2013

Energetic and citrusy with crunchy tree fruits and honey. Same on nose – follows similar clean tangy cirtus and white fruit with a mineral backbone. Not overt but has Chablis stamp on it but more of a modern version of it.

**Chablis 1er Cru Beauroy 2013
Creamy and fragrant – plenty of acacia orchard fruits,
Less than 10% oak contact in oak barrels classic French oak. Same Beauroy we've tasted, silky and rounded don the palate without being fat – overall good generosity albeit leaner than other Beauroy I'd tasted this week, tasted but that's La Manufacture's style.


***Chablis 1er Cru Forets 2012
Forets is a sub-climat of Mont Mains with quite limestone soils and the slope is gentle. Nose: is a bit shy; minerals and citrus, hints of honey and nuts a suggestion of. Very chic and mineral focused palate – gives texture and weight. Very chic and stylish but good power in the backbone.
A very precise and complete wine that was partly aged in foudres to allow for some oxidization.

*Good **Excellent ***Exceptional

website

---
Domaine Laroche

Domaine Laroche harvests grapes from 60 hectares of Chablis, 25 hectares of 1er Cru and 6 hectares of Grand Cru vineyards.
The grapes are in part estate, purchased and from maintained long term contracts.
Their 18 wines fall under two labels, Laroche and Domaine Laroche wine and 75% of production is exported.

I was tasting with Geoffery Viennois (right), who has been the winemaker at Laroche since late 2010.
Viennois was previously at Chapoutier (Rhone Valley), which gave him unparalleled insight in the global impact of water use and vineyard management, cellar management etc.
Somewhat following in M. Chapoutier's footsteps, he does not use chemical unless he absolutely needs to – that is, iif something needs to be done to save the vines, the grapes and the people who work there.
Viennois does not like the absolute conviction of what biodynamic and organic beliefs say you can or cannot do.
Additionally he uses a mix of natural and conventional yeasts, prefers low (cool) ferment to maintain freshness and character.


**2014 Laroche Petit Chablis
Viennois feels 2014 was a classic Chablis vintage - not overly powerful.
The wine is clean and expressive with loads of fruit and notes of stone fruits and honey with melon and guava with tangerine.
Lovely weight and focused acidity - very enjoyable wine approachable and charming. This wine is under screwcap and comes from estate and purchased grapes.

*Laroche Chablis 2014
More clay in this soil with some limestone vineyard. Very good fruit expression here as well - honey melon and exotic citrus. Very clean and fresh nose. Nice weight in the palate but also quite direct linear acidity. Not as much fruit expression more mineral and citric.

**Domaine Laroche Chablis Saint Martin 2013
A mix of 45 vineyards blended by blind tasting to produce this wine. Name of the label pays homage to a Roman monk from the fourth century who became French.
The nose is sweet nutty and buttery, honeyed and quite unctuous with chantilly cream notes alongside ripe pineapple and banana notes. The palate is good weighted but with good acidity and a slightly bitter pithy finish. Quite a lot of lees contact as the lees is added back into the tanks after clarifying.
This wine is the most important wine in Laroche production.


**Domaine Laroche Chablis Saint Martin 2014
NoteL there is a new label coming in the 2014 Domaine labels and they are going to return to cork from stelvin.
Good fruit here, citrus and floral and lively and focused with great weight and minerality (limestone) alongside juicy white fruits and citrus. Good length and focus, good length with a saline mineral trailing.


*Domaine Laroche Chablis 1er Cru "Les Vaudevey" 2012
In the very cool and windy valley of Vaudevey Laroche owns 10 hectares A final The vineyard has a longer ripening period creating more linear and less powerful wines.
Nose: nuts in sweet butter, honey and caramel notes, acacia and golden fruits. The palate follows suit with some buttery and nutty flavours. Quite linear as expressed with a fine powdery limestone – chalky flavour and texture in the wine.

**Domaine Laroche 1er Cru "Les Beauroys" 2012
Light soils, clay with a lot of small pieces of limestone in this vineyard.
Nose: acacia and golden fruits, peaches, sweet butter and hazelnuts and smoke with exotic spices. Nice weight and generosity, lively acidity and good balance with a textural/phenolic finish. Very nice complexity.

**Domaine Laroche 1er Cru Cote de Lechet 2012
This block was the first harvested in 2012 – it is located at the beginning of the valley on a point where it is slightly warmer.
Very nice notes of caramel and hazelnuts and spice with churned butter. Smells more like a Cote de Beaune Chardonnay but the palate is more minerally and focused like Chablis. Nice length and hazelnut flavoured finish.

**Domaine Laroche 1er Cru Les Vaillons, 2012
There's more clay in the soil in Vaillons and thicker skins on the grapes. Nose: quite rich and grille (toasted and smoked nose) with roasted lemons and retrained golden fruits. The palate is richer as well; generous, good flavours and enough minerality and acidity to give lift and some balance. Probably not a great choice for those liking focused acidity in their Chablis.

**Laroche 'Les Vaucoupins' 1er Cru 2012

Nose: vanilla and orange cream, quite caramel-ish (a modern style) and golden fruits, exotic spices. Quite rich and warm on the nose with brighter notes of wild flowers underneath. The palate is leaner and more savoury with a good dose of fleur de sel.
Very old vines on limestone. Wine was aged in old foudres.

*Laroche 1er Cru Mont de Milieu 2012
Overall, a more powerful and mineral-focused wine. Salted nuts, lemon and minerals with grille and butter. Quite linear.

**Domaine Laroche 'Les Bouguerots' Grand Cru, 2012
Sandy soils with gravel and small slope, aged 100% in oak.
Nice freshness of fruit, clean and mineral focused with acacia and orchard fruits - more of the natural aromas of the grapes coming through. It is pristine and delicate with acacia flavours on the palate as well.
Elegant.

**Domaine Laroche 'Les Blanchots' Chablis Grand Cru
Les Blanchots is 11.7 hectares in total and Laroche owns 4.5, the soil is limestone and clay mix.
Here more oak shows through – warm and nutty with caramel and butter and wild honey. Nice balance here, good acidity and chalky residual texture on the finish.

*Domaine Laroche 'Les Clos' Grand Cru 2012
Nose: salty mineral and grille with melted butter. Lemony and ripe with spice and lemon zest, which is echoed on the palate. It is quite powerful and still very young and tight. Old vines. Structure and textural components here but very lean on the fruit. Very sharp acidity, mineral texture and a buttery, nutty finish.
This wine comes from old vines grown on red clay near the bottom of Le Clos.

***Domaine Laroche "La Reserve de l'Obedience Les Blanchots" Chablis Grand Cru 2012
This wine is a very special selection chosen by blind tasting.
Nose: buttered nuts, grille, fresh golden fruits and dried acacia blossoms. Very good freshness and acidity with generous palate and flavours of citrus and butter and nuts. Very racy and lengthy – freshness is the key here.
A very age-worthy cellaring wine.

*Very good **Excellent ***Exceptional

website

---
Corinne et Jean-Pierre Grossot
This small family run winery was started in the 1920s by Jean Pierre Grossot's father. Initially they only sold the grapes to co-operatives.

Eve, who I met with during my visit, told me her father and mother increased the number of hectares in the family holdings and started bottling under their own label.
The family now owns a total of 18 (13 Chablis, 5 1er Cru) hectares and has been in organic transition since 2012
The wines are entirely from estate grapes; the wines are made at the domain in Fleys.
Like any small winery, Eve does anything she needs to, leading tastings, working in the cave or the vineyards, on commercial aspects and export.
Most of their wines go to the USA, Great Britain, Norway, Sweden, Japan and China.
The best scenario for Grossot is a production of 100,000 bottles but in 2012/2013s poor vintages, they only made 60,000. Some availability in the LCBO and SAQ.

Wines
Chablis 2013
Very fruit forward expression in this, tropical and ripe with flowers and honey. Palate is equally juicy and fruity with some ice mineral backbone and citric notes – very zesty finish.


Chablis 'Cuvee La Part des Anges' Chablis 2012
This special cuvee comes from two parcels blended from Fleys. The nose is a sorbet of fruits atop a more earthy and mushroomy core alongside dried fruits and fruitcake type aromas with wild honey. Very ripe with marzipan flavours.
Textual and weight is supple not fat. Good power on finish. (label shown right is 2011)

Chablis Premier Cru 'Troemes' 2012
Smoky and ripe; forest floor, golden fruits and peach stone. The palate similarly is earthy, a leaner style with focused acidity and more rustic. Good power on finish.

Chablis 1er Cru Fourchaume 2012
Attractive honeyed character with summer tree fruit. Nice textural mouthfeel good power in the back very bright and structure.


Les Fourneaux 2012
Nice floral component dominated by a strong mineral note alongside some buttery and nutty nuances.
Mouth is fresh on the entry; it has good fruit expression next to a buttery quality, which softens a rather linear palate.

Chablis 1er Cru Vaucoupin 2012
Very fruity on the nose, acacia and honey, smells young and charming and fresh with the summer orchard fruit sorbet aromas.
Again nice freshness, sweet fruit in the mouth with a dry finish alongside nice acidity and some mineral texture.

Chablis Mont de Milieu 1er Cru 2013
Somewhat buttery and redolent with wild honey and ripe peaches. The palate is similar, nice acidity and a mineral seam throughout.

website
---
Domaine Besson
Domaine Besson is a small independent family winery. Camille Besson and her brother Adrien recently took over the reigns from their parents – they are the 4th generation.
The handed down vineyards are spread across more than 21 hectares and each year they produce wines from four Chablis AOCs: Petit Chablis, Chablis, Chablis Premier Cru and Chablis Grand Cru.
Adrien works in the vineyards and Camille makes the wine - united by the same desire to give the necessary attention to their vines and for them to offer an authentic expression of the Chablis terroir in their wines.
Currently total production is 40,000 bottles per year but Camille told me they hope to grow to 100,000 bottles per year - they have enough vineyards to do so but have been selling a good amount to a negotiant.
The winery exports roughly 70% of their wines to key accounts in – Austria, Germany, UK, Japan and Holland.
Wine
*Petit Chablis 2014
Expressive nose: fruity and ripe, orchard and some tropical fruits with honey and flowers. Similarly charming and fruit yon the palate. Very pleasing, lively and zesty.

*Chablis 2013
This wine is aged 12 months in stainless steel as Camille feels it adds roundness. Mineral and citrus on the nose; the palate is lively and citrusy. Good solid style - fresh and approachable.

*Chablis 2012 Montmains 1er Cru
Golden fruits good ripeness and roundess tropical and orange blossoms. Nice generosity here, mineral and zest of citrus peel. Generous finish as well, as a good mineral component. Stylish with solid structure and good acidity to balance.

**Chablis 2013 Montmains 1er Cru
5% of oak used with some ageing. Nose: expressive tropical fruits, very clean with nice weight and a creamy edge. More mineral on the palate in the 2013 as well there's amore of a fleur de sel finish with phenolic texture. Good length – also more structure than 2012.

**Chablis Mont de Milieu 2013

Nose: salty and smoky with a backbone of ripe fruits and acacia. Interesting oystershell and fleur de sel on the palate. Camille says this area produces small berries all the time. Structure is powerful – it drinks like a red wine. Powerful, structure ripe fruits smoke and salinity all wrapped in one.

***Chablis Grand Cru Vaudesir 2012
The family owns 1.40 hectare which father very wisely purchased it in the 1990s – it sits just below La Moutonne on the Grand Cru. Expect gorgeous floral and fruity notes – it is seductive on the nose. Excellent fruit expression on the palate too - floral with a mineral seam - but mostly fruity. It boasts very good structure, mouthwatering acidity and extensive finish. Elegant and chic and drinking very well right now. The powerful mineral finish grows after a finer-boned body.

***Chablis 2012 Grand Cru Les Clos
The family owns a miniscule .15 of a hectare in Le Clos, which her father again, wisely purchased in 2008. Nose: Acacia, golden fruits such as quince and guava with yellow apples. Expect chalky clay and mineral on the palate as well well as the nose. It is very concentrated and dense on the palate. It has a chalky texture from the mineral. Impressive wine with a long powerful finish.

*Very good **Excellent ***Exceptional

website
---
La Chablisienne

La Chablisienne is the largest negotiant in Chablis and was founded in 1923.
Hervé Tucki who met with me, has been with Chablissienne with 30 years. He followed in his father's foosteps - who also worked at Chablisienne.
Chablisienne's goal is not to make fruity bulk wines that are approachable – instead they make wines to show each site's minerality and soils.
Herve explained they have approximately 240 contributing growers of all sizes and thye produce two million bottles per year.
Chablissienne loves oak – they feel is allows for oxidization and also highlights the minerality in the wines.
Left Bank Wines
*Petit Chablis 2013
Floral and fruity, fresh and juicy did do ML in 2013 b/c it was quite high acid. Broom/acacia flowers, summer tree fruits very tangy and fresh but a bitter finish like someone has cranked on the skins. Nice mineral backbone, smoked hints. A collection of parcels and vineyards. Make a cuvee from many parcels.

*Chablis 'Dame Nature', 2013
An organic wine made from Chablis village grapes – this is its first vintage. Aged in tank only it is floral with tangy white fruits and plenty of lemony flavours atop mineral.
Equally tangy and zesty in the mouth with phenolic and pithy finish.
Tucki feels like they did a good job on this wine for a poor /difficult vintage.
Everyone had to watch for botrytis in 2013 due to dampness.

*Chablis "La Pierrelee" 2012
Smoky, grilled lemons, mineral, wet stone/stream. Greater fruit expression on the nose here but similar smoke and chalky clay mineral flavours across the finish.
Textural, mineral and weighty. Good power - with longer aging it reduces the fruit and highlights the minerality - again, the focus of the winery.

**Chablis 2012, "Les Venerables" Old Vines selection 35 years or older, with an average age of 50 years. This wine is both fermented in oak and aged, bottled 18 months after ferment – at the same time as the Grand Crus.
Citrus-y and lemony with overy minerality( like a wet stony stream) alongside just a suggestion of tangy white fruit. Great mouthfeel and weight; flavours of browned butter and grilled lemons. Very good complexity, impressive power and some textural, chalky character.

"I consider La Chablissienne a producer of Chablis not a co-operative. I present the wines like a producer, not as a negotiant. This is not a marketing issue. I don't think it's a big problem any more. It's not a good excuse to be co-operative and not have good wines. We try and present the wines"

~Hervé Tucki: Is it a problem to be a co-operative in the wine world?

**Chablis Cote de Lechet 1er Cru, 2012
Lively citrus lemony notes with wildflowers – the most expressive nose of the lineup so far. It is bright and citrusy with smoke, buttered nuts and spice from oak contact, which also gives weight. Very good expression, purity on the nose but the palate is tight still, needs some time. Powerful, mineral, limestone and powerful finish, phenolic from oak and grape skins.

**Chablis Montmains 1er Cru, 2012
Again fresh and lemony with a core of minerality and dried flowers. Very focused seam of acidity seam that goes across the palate, the fruit offers a cushion around the acidity and there is some smokiness. Firm powerful finish again.
"Lechet is about the sky and Montmains is about the earth"
Right Bank Wines
***Chablis Vaulorent 2012
Vaulorent is very close to the grand cru vineyards, there is only one road between them. Nose: very floral and honeyed with acacia and stone fruit, guava, quince. Palate is fine and elegant, chic and expressive - minerality is here but fruit is playing a big support role. Really fantastic wine - truly the whole package, from fruit and acidity to structure and finesse. Feminine and seductive with long texture long finish.

**Chablis 1er Cru Monte de Milieu 2012
Lemony initially, powerful mineral, smoke and flint with some broom flowers comes after.
Good acidity and focus, again power on the finish a – which is according to Tucki is from aging on fine lees and also aging in oak.
Palate: lemony citrus power. Textural finish.
"We [Chablisienne] don't have a global plans for anything, it all depends on the vintage, every year is a different plan. We try to take care of these things, what is good in one vintage is not good in another – we think soil, we think terroir, to show the minerailty is important."
***Chablis 1er Cru Montée de Tonnerre 2012
Sunny south west exposure site. Nose: a sorbet of tropical and orchard fruits with exotic citrus and loads of acacia, vanilla, orange blossoms, a core of mineral. The minerality is obvious (like you are licking stones), with sweet fruit caramel and citrus, Very potent… absolutely powerful. Extremely impressive focus with good balance - there is plenty of supporting cast to the overall mineral dominace.
"They are neighbors, they are not cousins."

~Hervé Tucki: When asked about side-by-side vineyards.

***Chablis Grand Cru 2012 "Les Preuses"

My standout, hands-down.
Golden glints. Nose: floral and delicate nose and sweet citrus, orange blossoms and honey vanilla too, which appears on the palate too. Feminine and floral with vanilla and orange cream flavours alongside a strong mineral core. Chic and delicate with an iron fist of structure. The finish has a refreshing lemony/grapefruity zest Complexity and sheer awesomeness.
Still a baby but Tucki thinks Les Preuses age for 10-15 years.

***Chablis Grand Cru 2012 "Chateau Grenouille"
La Chablissienne owns 80% this vineyard in the heart of the grand cru, so it's not under the Chablisienne (negotiant) label.
Expect vanilla, orange blossom, apricots in honey, acacia and patisserie aromas. The palate is generous and powerful but chic and feminine. Complex, elegant weightless almost but exciting racy acidity. Slightly pithy finish.

"A grand cru must be aged a minimum of five years"

~Hervé Tucki
*Very good **Excellent ***Exceptional

website
---

~Daenna Van Mulligen